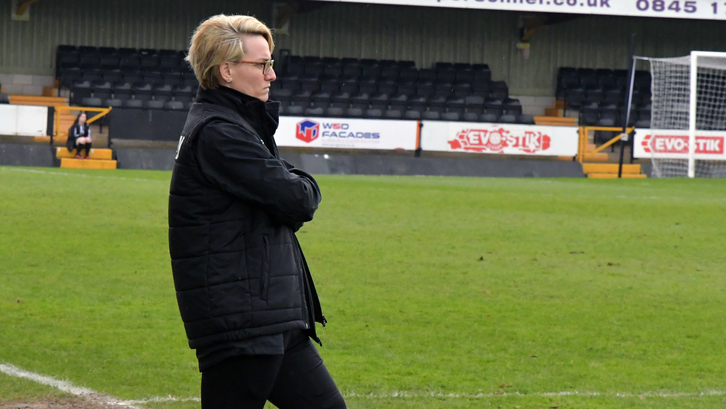 West Ham United Ladies head coach Karen Ray admits the thought of ending the season unbeaten has been considered but insists her team are completely focused on the next task - Portsmouth Ladies at home on Sunday. 
The Hammers completed a cup double last weekend with a 5-0 victory over Luton Town Ladies to lift the FA WPL Plate, having also won the Women's Cup ten days prior against Charlton Athletic. 
The result means the Irons have now gone 12 games unbeaten, winning ten of them including the last seven. It's a run that started with the first game of 2018, with Ray's side keeping ten clean-sheets in that time and scoring 51 goals.
And, with three games remaining in the Premier League Southern Division, Ray confessed that the thought of ending the season without another defeat had been considered. 
The head coach insisted that her, and her team's, primary focus was on achieving a good performance when Portsmouth Ladies visit Rush Green on Sunday. 
We all know we have to take one game at a time, our success is down to our accountability during training.

Karen Ray
"I would be lying if I said it hadn't crossed our minds, but it was a momentary thought," Ray said, when asked about an unbeaten end to 2018. "We all know we have to take one game at a time, our success is down to our accountability during training and getting carried away with statistics isn't something we will stumble over. 
"All three games are going to be difficult, starting with Portsmouth. They are all strong teams who undoubtedly want to be the club who ends our run. As a team, we must use that as our fuel. We are more than capable of finishing these season on a high but only if we apply ourselves and do the little things."
Goals from Ellie Zoepfl. Amber Stobbs, Kelly Wealthall and Rosie Kmita secured the WPL Plate for the Hammers on Sunday and Ray took the opportunity to praise her team's tenacity. 
The General Manager also offered praised to Luton Town for their efforts in the final.
Ray continued: "The biggest positive is the recognition the players have rightly earned. Ultimately, they are the ones who show up to every session with great intensity and work harder than any group I have worked with. Now, they get to see all of that effort come to fruition.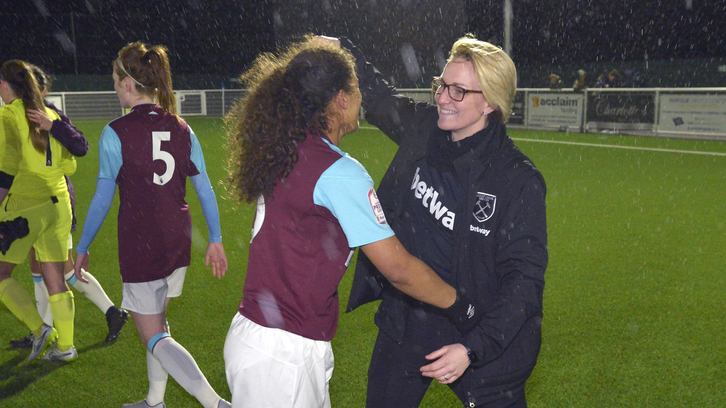 "Luton proved to be a tough challenge, they really showed why they deserved to be in the final. They were physically strong, tenacious at times and their goalkeeper Kezia Hassall certainly had a fantastic game. It wasn't our finest performance, but we showed how we can still win games when we dig deep and stick together. "
With the possibility of making it 13 games without a loss this Sunday against Portsmouth, Ray reckons she, her coaching team, and the players have found the perfect formula in calendar year, since she took charge.
 
"I knew we had a winning group but we just had to apply ourselves," Ray added. "With Jack Sullivan's support and hard work, I was in a position to really focus on the team, and hopefully I have repaid his trust in me. 
"When you combine a group of people who are willing to graft, battle and trust each other, the shift in mentality changes, and we are rich in people like that.'