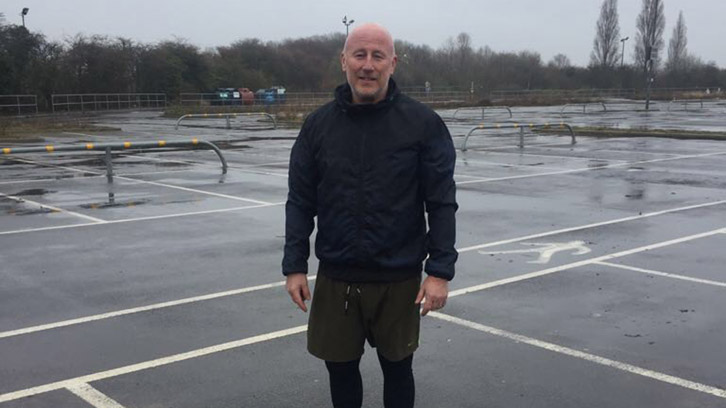 Former Hammers defender Kenny Brown has been harking back to the discipline and hard work of his playing days recently – as he prepares to run the London Marathon on Sunday!
Kenny, who made 79 appearances for the club in a five-year spell between 1991 and 1996, is taking on the famous 26-mile course in support of two charities – Prostate Cancer UK and Revitalise, an organisation that provides short breaks and holidays for disabled people and carers.
Now 50, the son of our legendary FA Cup and European Cup Winners' Cup hero Ken Brown Sr admits that he has had to draw on some painful reminders of his past as motivation for the training required.
"It's certainly hard work!" he says with a smile. "I've had to find my willpower again, take care of what I'm eating and focus on the training and discipline…attributes that I thought were long behind me!
"Thankfully I've managed to keep a fairly decent level of fitness since I stopped playing, and the preparation hasn't been too painful. I've started a little later than I would have liked, but I've felt okay and managed to step up the training recently.
"It's something I've always wanted to do. I've applied for the last four or five years but never got through. Then a friend of my wife had to pull out because of injury and offered me the chance to run in their place.
"I'm really looking forward to it now and, of course, most importantly, it will hopefully raise some money and awareness for two charities who both do fantastic work.
"The reason I am running for Revitalise is because my wife's friend is caring for a loved one.  I have seen first-hand the love and commitment families provide when it comes to caring for someone with a disability. Many carers never get a day off or the chance to do simple things like go out to the cinema or for a meal with friends. Their job is constant and without a break.
"The chance to just be husband and wife, or father and son again, not just carer and cared for, can mean the world.  Your support will help me make a real difference to the lives of disabled people, carers and those with prostate cancer. No matter how large or small your donation, everything you give will make a difference."