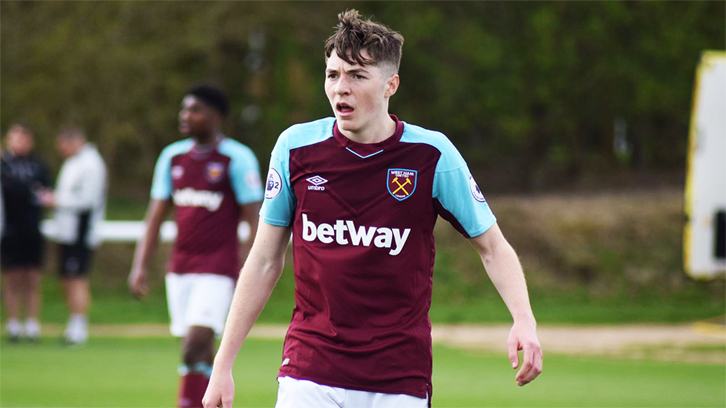 West Ham United's U23s will have extra motivation to beat London rivals Arsenal at London Stadium on Friday in Premier League 2, according to midfielder Conor Coventry.
The Hammers were overcome 1-0 by Derby County on Monday in their penultimate Division 1 game of the campaign, and will be looking to bounce back to end the season on a high at the Club's home this week.
Tickets are free for Season Ticket Holders and Claret Members when booked in advance, and just £5 adults and £3 concessions otherwise. Click here to book now.
Defeat at the Rams' Training Centre put a dent in Terry Westley's team's strong end to the season after consecutive away wins at Liverpool, Manchester City and Everton, but 18-year-old Coventry believes his side will rally to finish off the term with a victory.
The Gunners were also 3-0 winners when the sides met back in November, something which will also provide extra motivation for Friday's hosts, says the youngster.
"We all look forward to the games at the main stadium and Arsenal are a team who are top of the league and still trying to win the division, so I think it will be a really good match," he explained. "Of course it's a London derby as well, so our aim is to win and not let them get the league title.
"All the boys will be extra motivated after losing on Monday, to end the season on a high and a big positive after such a good first season at this level. We also lost to Arsenal earlier this season, so there's a sense of revenge in the game too and we'll be doing all we can to win.
"Obviously the fans always play a part in all our games no matter where they are, but when they turn out for the games at London Stadium it is really special for us and hopefully we can repay the ones that are there with a win."
Coventry – who scored his so far only U23 goal for the Hammers against Fulham at London Stadium last term – has made 17 appearances for the Premier League 2 side this term and has established himself as a key member of the Republic of Ireland's U19 squad.
All the boys will be extra motivated after losing on Monday, to end the season on a high and a big positive after such a good first season at this level

Conor Coventry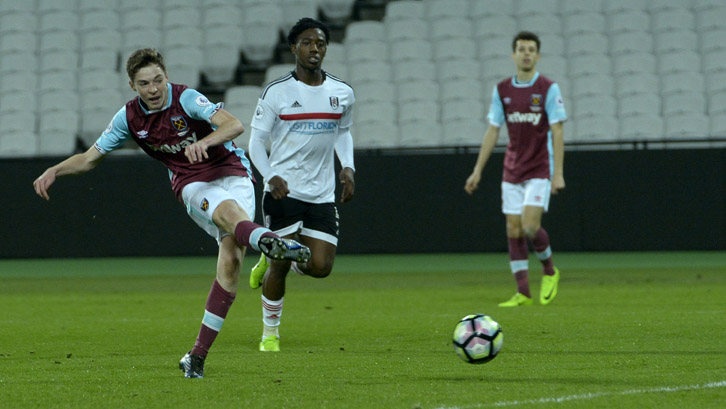 The controlling central midfielder is proud of the way he has acquitted himself at the higher level having played the majority of his football last season for the U18s.
"I'm definitely pleased with the way I've established myself in this team. The target at the start of the season was to play as many games as I could in the U23s but it was more of a target for the end of the campaign.
"I wouldn't say I necessarily expected to be where I am now at this stage, having played so much at the beginning of the year and playing at the level I am, so obviously I'm really pleased with that.
"It has been a great learning curve for me. For example, in the Derby game they played in a very physical way and were very direct but you have to be able to deal with that if you are to have a career in the game.
"The team they started with was pretty experienced with some older players. The way they played suited their team, they weren't the same as more of an Arsenal or a Tottenham who we've played this season, or like the style we try and play, so it was a good experience for us."
Coventry admitted it was a disappointing way for West Ham to suffer their eighth league defeat, but is sure the side will bounce back at London Stadium.
"The goal was a long kick and we didn't deal with it, but at times we dominated the game and we definitely deserved to get something out of it," continued Coventry.
"We've played two high intensity games in the last week or two to beat Man City and Everton, but that's the way the game is; you have to be able to deal with that and do that. We're a young side but you have to learn to get used to that intensity.
"It was maybe just a bit of an off day that we tried to turn around in the second half, and we nearly did, but we just about couldn't in the end. Hopefully we can do that against Arsenal on Friday, now."
The Hammers host their final Premier League 2 game of the season at London Stadium against Arsenal on Friday 20 April at 7pm. Supporters can book their seat for the London derby by clicking here.