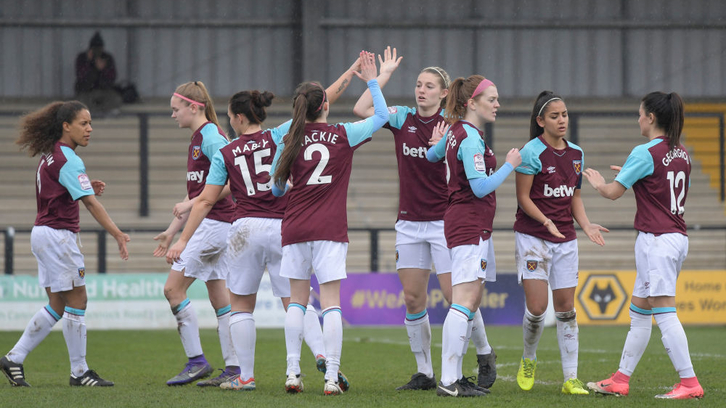 West Ham United Ladies' 5-0 victory over Luton Town Ladies to win the FA WPL Plate is "just rewards" for the team's hard work, according to Leanne Mabey and Chenise Austin. 
Two goals from Ellie Zoepfl, as well as finishes from Amber Stobbs, Kelly Wealthall and Rosie Kmita, secured the victory for the Hammers, earning the side the WPL Plate – their second trophy claimed in less than two weeks. 
"This is an amazing feeling," Mabey told whufc.com. "I think it's just rewards for all the hard work we've put in. I've said that before. We've worked really hard for this and I'm just really glad we could add this one to the other cup we've won."
Austin was similarly delighted to claim the WPL Plate, in the process helping the Hammers to 12 unbeaten matches in 2018. 
We've worked really hard for this and I'm just really glad we could add this one to the other cup we've won.

Leanne Mabey
She added: "It's good to another bit of silverware that we can now go and parade on Monday. The girls have worked really hard for this, so it's now just about going back to the league now and capitalising on this for the rest of the year."
Although Luton Town sit the division below the Hammers – in the Premier League South East Division 1 – both Austin and Mabey admitted that Sunday's opponents were not easy opponents to get past in the final.
Austin continued: "They put in a good performance. It goes to show with their goalkeeper, Kezia Hassall, being the player of the match. She put in a good shift and she kept a couple out. And Luton didn't make it easy for us."
Her sentiments were echoed by Mabey, who added: "The thing with Luton was that we didn't know what to expect. I think we could have but on a better performance, personally, and I know the girls feel that way. But we can't complain. We've got a trophy at the end of the game."
Another two goals from Zoepfl aided the Hammers to this weekend's cup triumph, and Mabey was full of praise for the American forward, who now has 14 goals for the season in all competitions.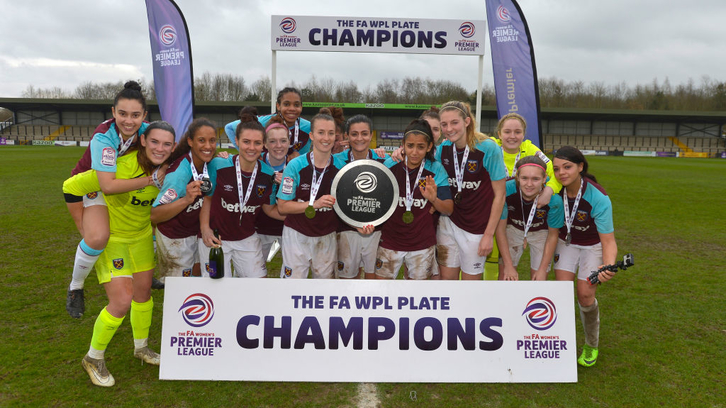 "We've been doing a lot of four vs four in training and she's an absolute nightmare," Mabey said of Zoepfl: "She rolls you and because she's so tall there's no getting her back. 
"She's been really putting in her training and those performances have carried over into the games. She's been doing really well and I'm really happy for her."
The 5-0 win means another clean-sheet for the Irons, a tenth in the 12-match unbeaten run for Karen Ray's side. 
Unsurprisingly, it was a statistic that made defender Austin very happy.
"That makes me really happy!" she said. "A record like that is any centre-back's dream, to be honest with you. We've proven we can score the goals, but it's nice for us at the back to keep the clean-sheet. It's just rewards and I'm really happy. "