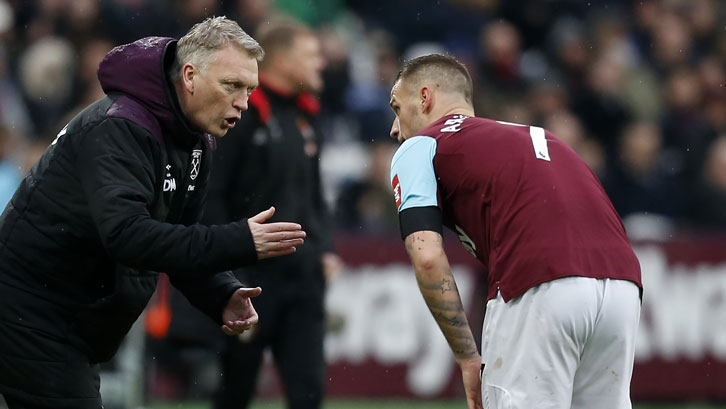 David Moyes has backed Marko Arnautovic to lead West Ham United to another important Premier League win when the in-form forward faces former club Stoke City on Monday evening.
The Austrian has netted nine goals in his last 14 top-flight appearances, including one in the 3-0 win over the Potters before Christmas.
Victory over the same opposition on Monday would see the Hammers rise to 12th in the table and go nine points clear of the bottom three, and Moyes expects Arnautovic to lead from the front yet again.
"The players look to him," the manager observed. "He's got a leadership role which he needs to develop as well for the team and for the Club, because he is getting to an age where he has to influence the players around him, so he needs to lead by both his character and his performances, and his performances have done that in many ways.
"He is vocal in his own way. He has good humour, he's a character and I'd like him to put that talking about what he can do in training. To get to the very top, he needs to keep his level of training very high."
Marko set about with his energy and his attitude to turn the situation around and I think he's done that, so why would he want to go back to where he was?

David Moyes
Arnautovic has recovered from a difficult start to his Claret and Blue career – he was sent-off at Southampton on his second appearance – to become arguably West Ham's most-important player.
The No7 has retained the edge to his game, though, and Moyes believes it is important that the Austrian does not lose his individuality on the pitch, so long as he keeps working as hard for the team as he has in recent months.
"I'll let him carry on and be Marko. All I am doing is saying 'Keep doing the things you're good at and keep showing everybody your energy is big and your running is high and you're not the Marko of the first three months that people saw. Everybody likes the Marko they've seen the last six months, so keep it going'.
"Players like Marko need a little bit of legroom, maybe more than others, and I think we gave Marko his legroom but I want to make sure he knows he has got to do the job here. I don't think he will [slack off] now, because he knows what got the crowd from booing him to cheering him every week and becoming one of their heroes.
"He set about with his energy and his attitude to turn the situation around and I think he's done that, so why would he want to go back to where he was? I wouldn't. I'd want to keep doing the things that have got me the applause and the goals, because it's always nice to score a goal!"