General manager and head coach Karen Ray has called on her Ladies side to prove that a win in this weekend's FA WPL Plate final is the "reward that everyone deserves", when they take on Luton Town on Sunday.
West Ham United Ladies will play their second cup final in just 11 days this weekend in Cannock against Luton, having claimed the Goodmove.co.uk Women's Cup last Wednesday in an exhilarating contest against Charlton Athletic Women. 
With one trophy already in the bag for the Hammers, Ray wants the team to continue their excellent recent run and show they are deserving of another winners' medal this weekend. 
When asked what a victory would mean for her team against Luton, Ray told whufc.com: "For me, I think it's the reward that everyone deserves. I think that it is something that every single one of them have worked extremely hard for.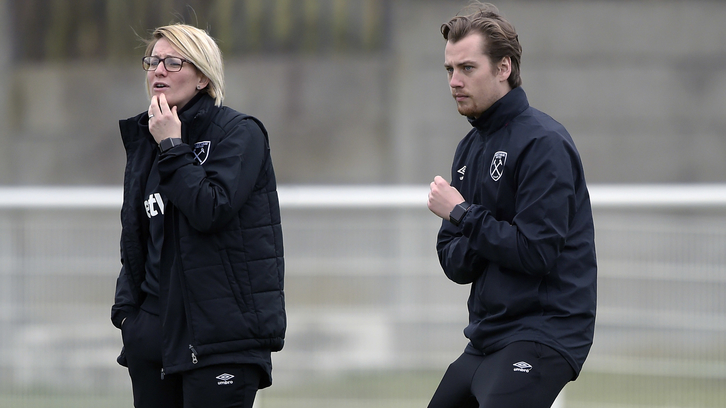 "The staff have completely earned some recognition for everything they've done and hopefully as the person that's steering it, I guess for me it is important for them to be recognized for what they've done. Obviously, I would like to thank everyone that has worked with us, working for us."
Luton currently sit fifth in the Women's Premier League South East Division One – the division below West Ham – but Ray is expecting a tough test against the Hatters, who seriously tested AFC Fylde in the semi-finals. 
The head coach knows this Sunday's match will be a completely different test to the one against Charlton, but is confident her side are up to the challenge that Luton will pose. 
She continued: "They are in the league below us, but I don't think that it takes away anything from them as a team. They put in a great performance against Fylde, a team who are equal to us if you look at the tables in the Northern Division. This says a lot about what Luton can bring and we will respect that, just as we did with Charlton.
"Ultimately, Luton will be a tough challenge and a different challenge. They're going to be a tough team, they're going to drop deep and we have got to find a way to break their line which is different from people coming to press onto us. It's a new challenge for everyone to figure out."
Luton are going to be a tough team, they're going to drop deep and we have got to find a way to break their line...It's a new challenge for everyone to figure out.

Karen Ray
Ray reckons this weekend's game will come down to the mentality of each side, with the general manager believing that desire and tenacity will be the key attributes in the WPL Plate final. 
Ray recognises that her team are probably feeling the pressure of their winning run, with the side unbeaten in their last 11 competitive matches, including 46 scored goals, but feels this can only be a good thing ahead of this Sunday's match. 
"It's about getting the right mentality. It's about not being complacent and that's something we talk about every pregame meeting. We can't let this drop. It's crazy to say that it's tough to keep winning. I think in a cup final it comes down to who wants it more on the day, the occasion itself calls for you to either rise or to fall.
"I think the girls are feeling the pressure now but the girls are in a good place mentally. Physically, this is the most fit that they have ever been and I think that showed at the Charlton game. Now it's about making sure we put all of the ingredients in, and we go out there and not only put on a good score-line but a good performance from everyone."