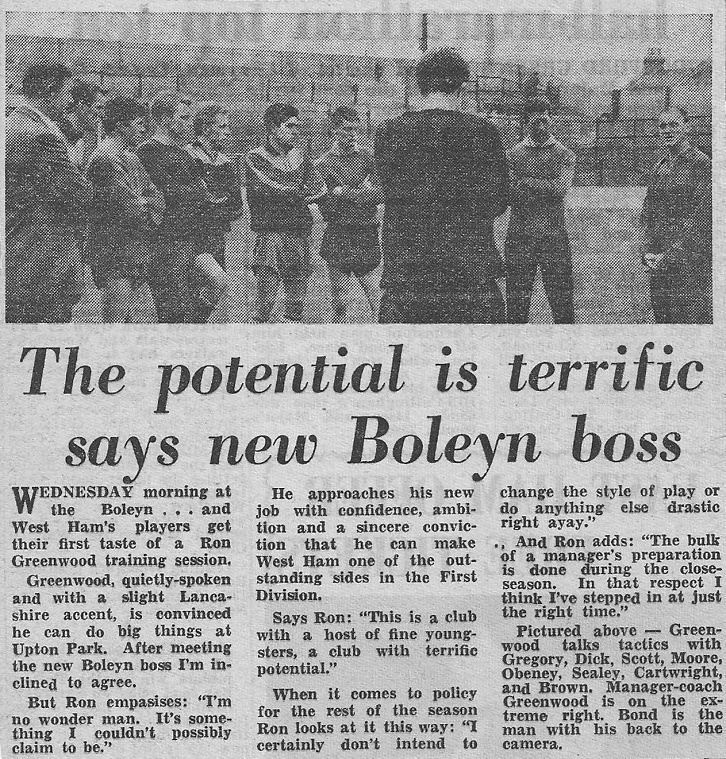 The manager who led West Ham United to their first major trophies was appointed 57 years ago this week – but he might never have arrived in east London had Arsenal made more of an effort to keep him.
Ron Greenwood had won the First Division title with Chelsea in 1955 as a centre-half, before joining Arsenal as assistant manager two years later in December 1957.
The young Greenwood, who was still in his late thirties, combined his work at Highbury with a role coaching England's U23 side, where he worked with many of the players who went on to lift the FIFA World Cup in 1966, including West Ham's Bobby Moore.
In March 1961, Ted Fenton left his role as Hammers manager on the same night England played a practice match against West Ham at the Boleyn Ground, losing 1-0, with another future World Cup winner, Geoff Hurst, scoring the only goal of the game.
In his autobiography Yours Sincerely, Greenwood revealed how England manager Walter Winterbottom planted the first seeds in his mind about moving across the capital to Upton Park.
"He asked: 'Would you be interested in the job at West Ham?'.
"'I'm happy at Arsenal', I said. 'In any case, if they're going to sack people like they did last night it's obviously not a happy club'. I promptly forgot all about this exchange."
A few weeks later, Greenwood had just finished coaching schoolboys at Highbury when Arsenal's club secretary Bob Wall approached him.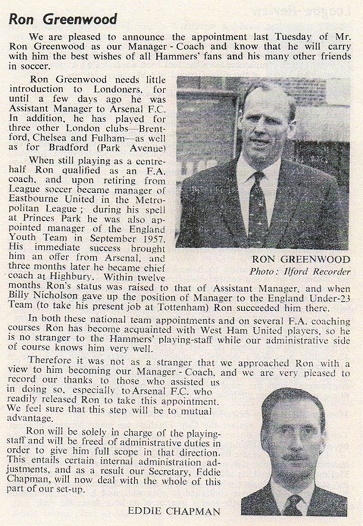 "'Mr [Reg] Pratt, the West Ham chairman, has been on', he said, 'and he's wondering if he can approach you with a view to you becoming their manager'. I told him I thought my future was with Arsenal and asked him if [Arsenal manager] George Swindin knew about the offer.
"'Well…. yes' he replied, and then added: 'You know, I think this job may be of interest to you'. He was painting a glowing picture of Mr Pratt and it was obvious he knew him well. I got the message loud and clear. 'All right' I said. 'I'll pop across to see him'."
"I drove across to West Ham on the Tuesday morning and met Reg Pratt and his vice-chairman, Len Cearns, members of two families who were West Ham. We talked in a little private room just off the old Upton Park Boardroom, and I must confess that when I sat down I did not have any firm notions about the job or the club. They came straight to the point and said they wanted me to become West Ham's manager-coach. I was perfectly frank with them and said I was enjoying my job with Arsenal and the England Under-23 side, and that the decision facing me was a difficult one. 'But if I do take the job', I added, 'I would want full control of all team matters and no interference'."
Greenwood was offered an annual salary of £2,000, revealing he was 'more interested in the possibilities of the job than the money' and how he 'started thinking about the many promising young West Ham players' he had met.
"It was obviously an area rich in talent and, with the two West Ham directors talking with sense and enthusiasm, I began to warm to the job."
After talking to his wife, Lucy, and following a conversation with chairman Sir Bracewell Smith which left him feeling like Arsenal had 'made no attempt' to keep him in north London, Greenwood's mind was made up.
"I told West Ham I would be delighted to be their manager."
In his book, Greenwood admitted he had been initially 'reluctant' to leave Arsenal and 'doubtful' about the opportunity to join the Hammers - 'a club I knew little about' - but concludes that 'things worked out rather well'.
Over the next 16 years, West Ham would win two FA Cups, the European Cup Winners' Cup, and produce three members of England's 1966 FIFA World Cup-winning squad.