West Ham United's 3-0 Premier League victory over Southampton was an emotional occasion for Bailey Punnett.
For the match was the first the eleven-year-old had attended following the tragic and sudden death of his dad Scott, who suffered a cardiac arrest while at work.
The father and son were Season Ticket Holders, attending matches at London Stadium alongside Scott's close friend Paul Manning and his daughter Mia, also eleven.
 
Despite the shock and devastation caused by his Dad's passing, determined young Bailey told his mum Zoe that he would like West Ham's anthem I'm Forever Blowing Bubbles to be played at his father's funeral, and that he wanted to keep going to Hammers matches in his memory.
When Paul wrote to the Club explaining the sad events which had taken place, he, Bailey, Zoe and Mia were invited to Rush Green to meet the players and manager David Moyes.
And, to fulfil Bailey's wish, the quartet attended the home match with Southampton as guests of honour, going on a special behind-the-scenes tour, watching the warm-up from pitch-side and meeting the players again after the match.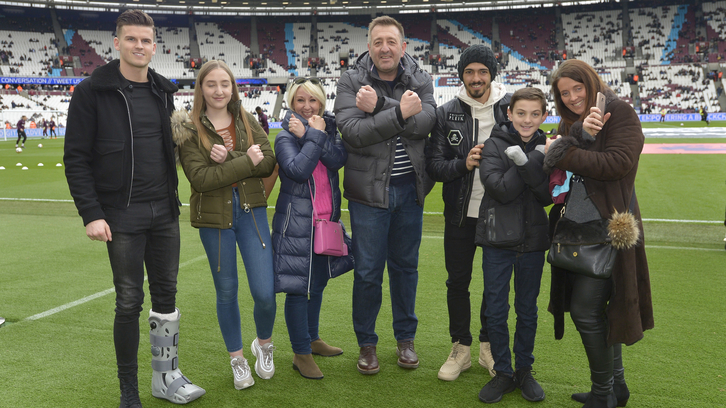 "We'd been together 16 years and he was always a staunch West Ham supporter, and when we had Bailey we wanted to carry that tradition on by taking him to see the team play," Zoe said. "Scott always encouraged Bailey in his football, too.
"Losing him has just left a massive hole in our lives. He was loved by everybody. The messages we have received have been amazing and it makes us realise what a really kind person he was.
"I still expect him to walk through the door and just can't believe he's not here."
While Scott's death has left a massive hole in their lives, Zoe has vowed to take his place at West Ham matches, helping Bailey to fulfil his wish to cheer on the team his Dad loved.
"It was very emotional, watching the game," Zoe continued. "I cried at the first goal. But I really enjoyed it. And I'll be coming back with Bailey.
"Knowing his dad was here with us and he was shining down on us. And I think it was him that scored those goals."
"The best match we went to was the last match at the Boleyn Ground," Bailey said. "We got in the ground early and my Dad was singing and everything. It was amazing.
"I'll still keep coming to matches if they win!"
Bailey and Zoe will, of course, continue to be supported by Paul and Mia.
"Scott grew up in Canning Town and we all supported West Ham from a young age. He went over to Upton Park from the age of ten and it went from there. I was mates with Scott for nearly 30 years, so we went back a long way and he was West Ham through and through.
"We went to quite a few away games together and we got Season Tickets when the Club moved to London Stadium. The four of us would go together every week – it's what Scott would have wanted."