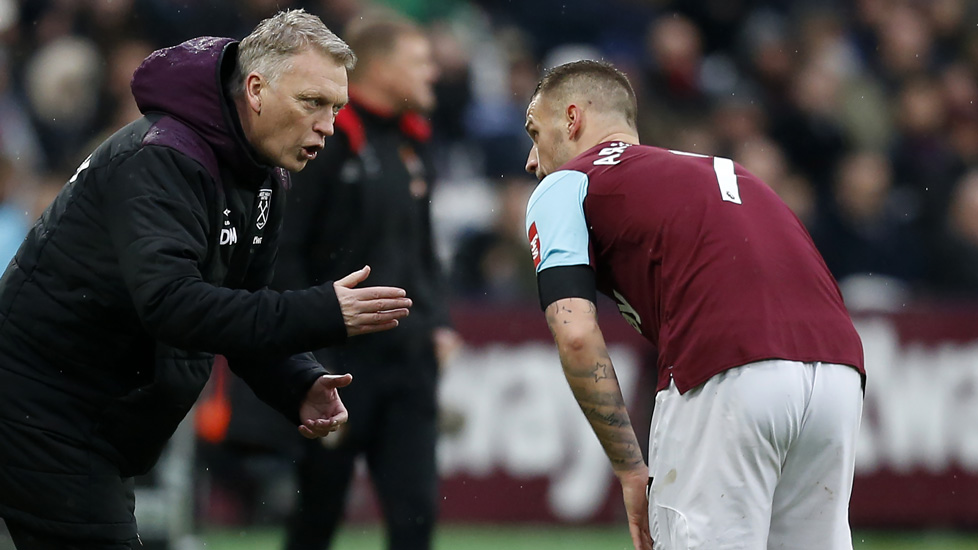 Marko Arnautovic may have scored nine goals and assisted three more in his last 13 Premier League games, but his manager believes there is still more to come from him.
The Hammers head across London for a derby duel with Chelsea on Sunday with David Moyes admitting he is keeping on his No7's case to ensure he maintains his current level.
It was against the Blues that the Austrian began his hot streak, as his early goal gave the east Londoners a 1-0 win over Chelsea in December, and Moyes would love a repeat at Stamford Bridge.
"I think Marko can get even better," the boss said. "I think his training can improve – Marko is a really good player and I still think he can practice more and improve more.
"If he works on the small things and still looks to improve, he could become an even better player than he is already.
"He's got great ability, he's powerful, he's quick, he's got a level of arrogance and self-belief on the pitch, which is good, and I think there's another bit to go.
"If you've got all that you have to show everybody at the club 'this is the standard, you have to be [here too]'. He has to be the one setting the standard and he needs to decide whether he's going to step up [further].
"There's a little bit of me saying 'come on then, if you want to be that, let's see if you're going to step up to it'. That's why he gets a little bit of tough love from me, because I want to keep him grounded and get more from him.
"But I'm thrilled with what he's doing because I think now he's dealt with the expectation that was on him and you have to say that £20m looks a bargain for Marko Arnautovic now.
"He's the standard of player that West Ham need to get going forward.