West Ham United Ladies will not feel like underdogs when they play Charlton Athletic Women, with vice-captain Rosie Kmita promising the side will give their all in Wednesday's Isthmian League Cup final.
The Hammers will take on Charlton this week in the last two of the Women's Cup, with Karen Ray's side aiming to continue an unbeaten run in 2018 with some silverware. 
In Charlton though, West Ham take on a side that sit third in the Premier League Southern Division, just two points off top spot, and have won 13 of their 15 league contests this campaign.
"We won't sugar-coat it, it will be a tough game," Kmita admitted to whufc.com. "But one thing I will say about our squad is, we know that and we will still give it 100 per cent. We won't allow that to get in our heads. We will go out there, all guns blazing. 
"We won't allow the fact they are a top team get to us. We will just play our game, which is what Karen always tells us. We will stick to what we know, as we always do.  
We will go out there, all guns blazing. We won't allow the fact they are a top team to get to us. We will just play our game.

Rosie Kmita
"The last time we played against Charlton we were, in a sense, the underdogs. But now I think the group is top class and we don't feel that. We haven't been losing and there's just excitement."
The last time Kmita refers to was the incredible 3-1 win for West Ham away to Charlton at the Valley, inflicting a first defeat of the season on the home side. 
That game coincided with the week the vice-captain signed for the Irons, and it was an occasion Kmita will never forget.
When asked what she remembered about that occasion, Kmita responded: "Mainly the nerves! It was a big game anyway, with it being played at the Valley, but it was one of my first games. You are always going to get those nerves!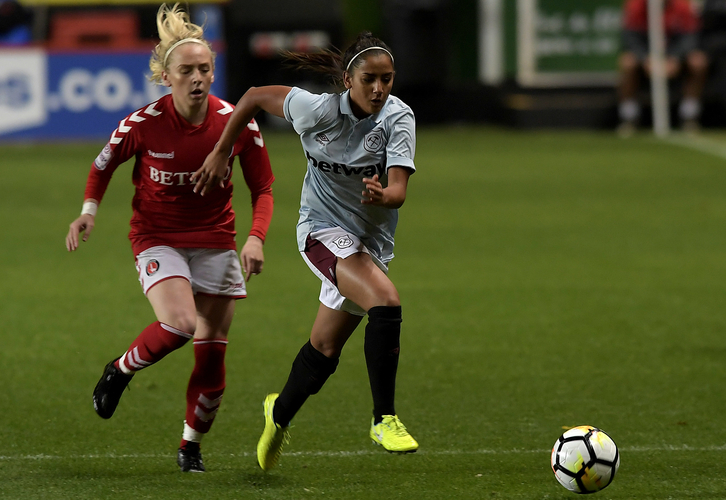 "That feeling when we won the game – you can't beat that. We were such underdogs back then. Our run before that game wasn't great and we went in as underdogs but when we come out winners, it was an unbelievable feeling. I think that really changed our mentality in terms of 'we can beat top teams'. It was incredible, that day."
West Ham United Ladies head into Wednesday's fixture on the back of nine games unbeaten, a run that began at the start of 2018, with the Hammers picking up a 6-0 away win over Swindon Town in their last match. 
The significance of playing in a final is not lost on the squad, according to Kmita, who believes winning the trophy will have been a well-earned reward for the Club.
"This is what you play for, moments like that. We work so hard every training session, and every weekend we're giving 100 per cent. Just to get that reward and win the Cup final would firstly be everything that we earned – us and the staff – and it's also that feeling of winning it as a team which will be amazing."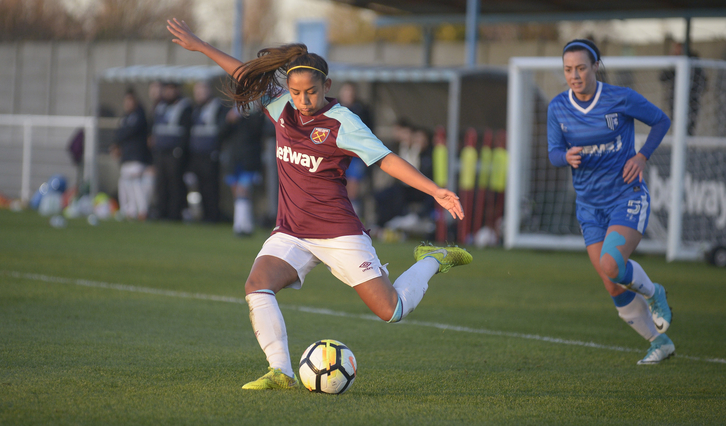 The Isthmian League Cup final will be played at Parkside, the home of Aveley FC, with tickets available on the gate on the night from just £1. 
Kmita has issued a rallying cry to all West Ham fans to attend Wednesday's fixture and cheer on the Ladies, saying their support could push the Hammers to an even better performance against Charlton.
She added: "I think it's so important that people get behind us on Wednesday and come and support us. Bring friends, bring family, because that really does get us going. 
"Knowing we've got everyone we love in the crowd, watching us, every individual on the pitch gets a boost. Especially against the tough sides, you need that naturally as well, so get behind us!"