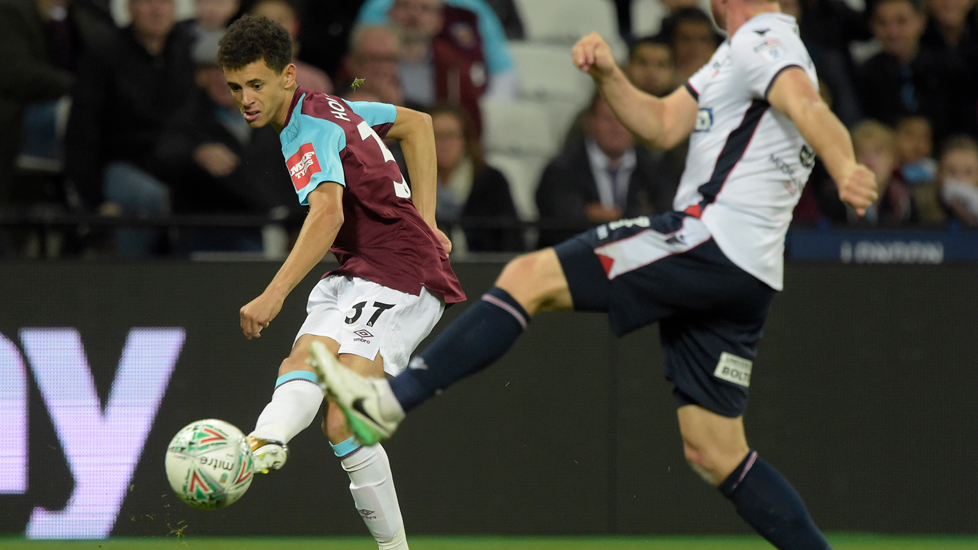 Winger Nathan Holland made his first-team debut against Bolton Wanderers last Tuesday, but he's not satisfied just yet…
It is a special moment, a debut. The build-up, the nerves, the atmosphere; they're experiences you will always remember after walking onto the pitch for the first time in the senior team.
Nathan Holland, therefore, will not be forgetting last Tuesday night in a hurry. 19-years-old and with an exciting career ahead of him, the winger was introduced by Slaven Bilic with half an hour left to play in the Carabao Cup win over Bolton Wanderers.
"It's a dream come true," the youngster says, still on a high after his maiden appearance. "I made it onto the bench last year but didn't get a chance, so getting out there was amazing.
"I was nervous. It was a big crowd, the biggest I've played in front of. When I got on, [Mark] Nobes pulled me in and said 'Just do your thing'.
"I won an early corner and as soon as I got a touch on the ball it felt real. I got to do what I love; play football, but on that stage. I really felt comfortable and enjoyed myself after that."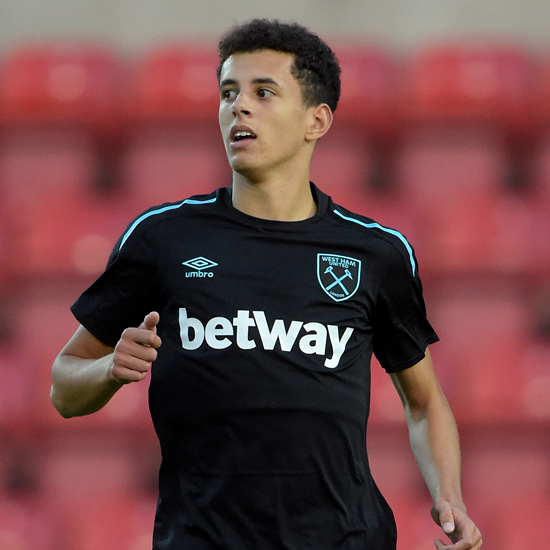 Holland only joined West Ham United in January, leaving boyhood club Everton on Merseyside for east London, and despite the considerable distance, he feels at home here.
The influence of the club captain, he says, as well as the many of the other senior players, has been vital for him.
"When I was away on pre-season with them, the lads that have been around here a long time – Nobes, Ginge [James Collins], Winston [Reid] – as well as [Aaron] Cress and Mick [Antonio] helped me a lot," continues Holland.
"They give me tips and you've got to take them on board from top players.
"Also in the Academy, Terry [Westley] has been like a Dad to me, ever since I first came here.
"Sometimes he's hard on me, but he's always got my back and he can only help me achieve my potential."
And that potential is pretty frightening. Two goals and many more impressive appearances for the U23s last season proved that, and he feels he still has a lot more to offer.
"I'm looking at the season [as a whole] now, rather than just breaking straight into the Premier League team. It's a campaign-long aspiration.
"It's a big squad and you have to work hard to get your chance. Now I just need to keep working hard with the U23s and then I'll hopefully get another chance soon.
"I am training with the first team a lot and the gaffer has shown his faith in me; I can see that he believes in me.
"He is a great coach and he's built a good relationship with everyone. He wants to win so badly every game so hopefully we can repay him by keep getting more wins now and have a good season."
With a first-team debut under his belt, the teenager can probably already regard this campaign as a good season. Determined as he is, though, he is not content.
It is certain; more is to come from Nathan Holland.