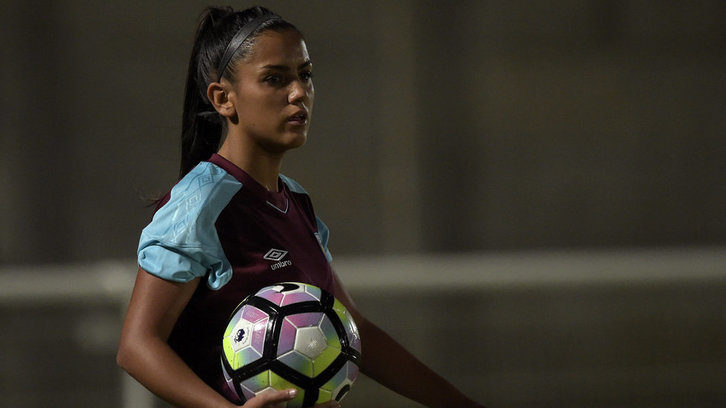 The season is still young but there has been a moment of astonishment already for Mollie Kmita.
The summer acquisition has admitted the West Ham United Ladies' first home match, against Cardiff City, came with a level of support from fans that she never dreamed of experiencing.
Rush Green was packed with fans on that beautiful Sunday in August, as the Ladies defeated the South Wales side 4-3, claiming their first victory of the campaign. It heralded the continuation of the new journey the West Ham Ladies are undertaking, under the guidance of Greg De Carnys and Karen Ray.
"That first home game, against Cardiff, was a really interesting moment for me," Kmita confessed. "That match was a real eye-opener as to just how much support we get from our fans, and how well they all want us to do.
The Cardiff match was a real eye-opener as to just how much support we get from our fans, and how well they all want us to do.

Mollie Kmita
"Their support for us so far has been amazing and we as players can't express how much we appreciate it. That day and that moment serve as real motivation for me. I want to keep experiencing the feeling I felt that day throughout the season."
A former Tottenham player, Kmita moved to the Hammers as a part of the busy summer of recruitment. Despite being one of the newer members of the team, she already feels right at home at West Ham.
"Everyone has been very welcoming," Kmita said: "The staff here are great! They honestly have given me all I could hope for in my first few weeks of joining a new club.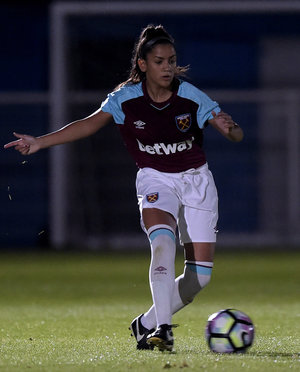 "The girls have also been amazing in helping me settle in. I'm very grateful to them all."
Already this campaign, Kmita has been asked to play across the pitch, a responsibility that she herself admits she was not sure that she would be able to rise to. But the support provided has given Kmita the confidence to try these different roles and so far, she is delighted with how she is performing.
Kmita added: "The opportunity to test myself in different positions already this campaign has been challenging for me. It has forced me to step out of my comfort zone which is something I would have been hesitant to do previously.
"But being at West Ham has allowed me to have the self-confidence to believe I can put myself in these situations and succeed."
Kmita has clearly bought into the project at West Ham Ladies and is eager to continue her own personal development while, at the same time, helping the Irons to build themselves up in the Premier League Southern Division.
"The support we as players are given on and off the pitch means I personally feel I have all I need to develop as a player, and a person, at West Ham. I want us to become a real force and I know we have all we need to do that.
"This season I feel is a chance for us to really set our standards and create our identity for the campaigns to come. We're all behind the project and we are only just beginning!"