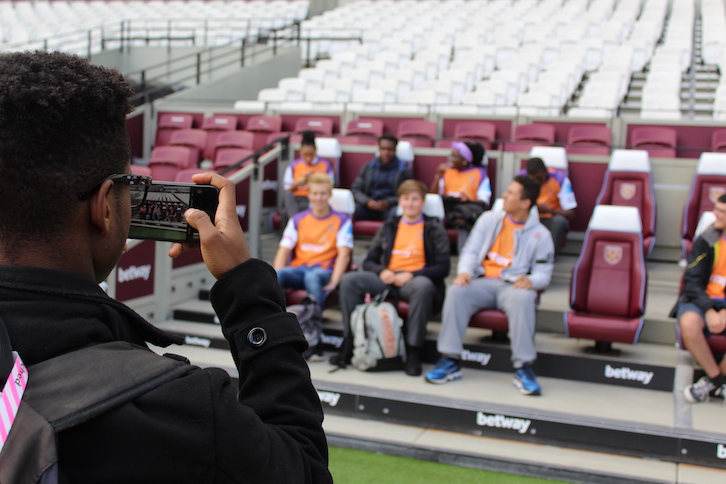 The West Ham United Foundation last week hosted the Junior Leaders Field Gun Crew from the East London University Technical College (Elutec) at the London Stadium stadium for a presentation to mark their sterling effort in a Naval competition earlier this year. 
Following on from the main RNRMC Field Gun Competition, which sees 24 crews from the Royal Navy, Army and RAF compete for the coveted Brickwoods Trophy, HMS Collingwood hosted the annual Junior Leaders Field Gun Competition.  
The competition, which is entered by crews predominantly made up of youths aged 16-24 who have recently joined the Armed Forces or are studying at college, is very similar to the main competition sponsored by the Royal Navy and Royal Marines Charity. The more difficult lifts and some of the complex pieces of drill are changed to make this very much a great way for these young crews to take part in and become part of the proud Field Gun community. 
Building on team work, training and positive discipline, the crews enter the competition with little or no prior experience of Field Gun and only have one week to train under the supervision of a highly experienced team of Field Gun Mentors assigned to them. The final competition takes place at the end of the week in front of friends, family, personnel from across the base as well as high ranking officers from across the Royal Navy. In addition to the Armed Forces crews, teams competed from Colleges, Sea Cadet units and University Technical Colleges (UTC) across the country.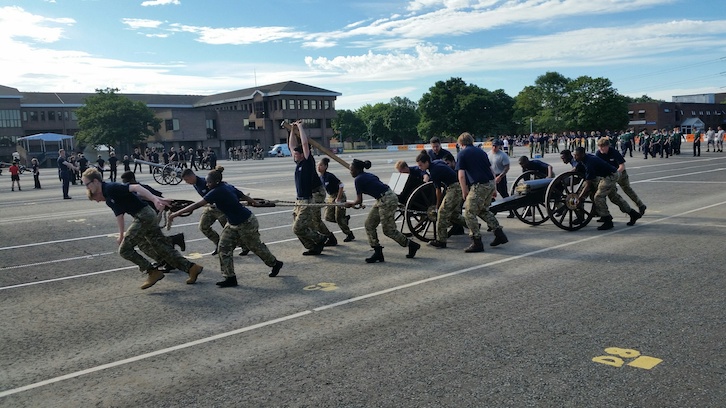 The Elutec crew, through dedication, hard work and great training from their mentor, Chief Petty Officer Physical Trainer Nick Kent, became the top crew from a non-serving education establishment in the country beating 8 other schools/colleges and 4 RN junior ratings teams to come 5th out of the 18 selected crews competing. Having only 4 serving crews ahead of them and having beaten 4 is certainly a first in this competition. 
18 students and two staff, Peter Quinn and Darren Wright, from the Elutec engineering and science secondary school, formed the crew that competed in the Royal Navy's prestigious, invite only, Junior Leaders Field Gun competition. They stayed on HMS Bristol in Portsmouth for the week and trained hard every day at HMS Collingwood with an early start each day that was certainly a new experience for some of the students. At the end of a gruelling days training the crews were then given the opportunity to take part in other sports of an evening, put on by the Navy, as well as some handy lessons in ironing which again was a new experience for some!  
This achievement by the Elutec crew was the culmination of months of Wednesday afternoon physical training sessions as well as a visit to the West Ham United Foundation's training ground to be put through some initial training and mentoring from the Foundation's Community Sport Manager Austin Hughes, who is on the Field Gun Executive Committee.
Speaking about the competition and the achievement of the Elutec team, Austin said "The competition is a great way for these students to not only learn, but also truly understand the value of working together as a team" he went on to say "The dedication that has to be put into this certainly promotes positive values that can only empower these youngster going on in life. To see them share in the highs and lows of training and come together in this way was certainly a proud moment" 
When the students were asked about the competition it was clear that it had meant a lot to them. Outgoing head boy, David Wahba said, "Adventure is what makes life fun, so going off to the navy for a week to participate in the gun run is honestly a great experience", alongside Joseph Njury who made the comment that "Great is an understatement! there are no words to describe it, a truly amazing experience".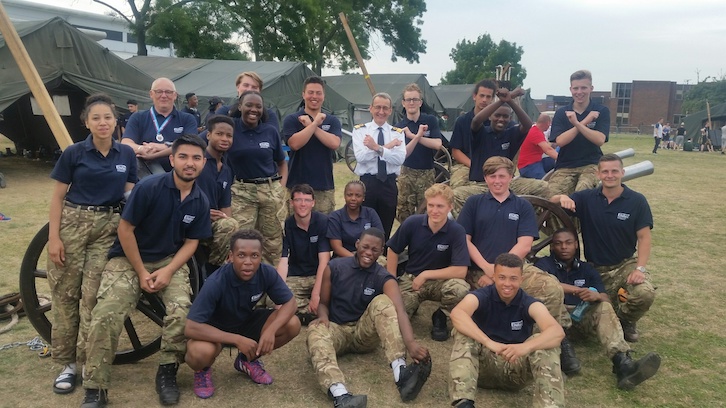 Female crew member, Helma Cardoso said, "Joining Field Gun was nothing like I or the others had expected, it was much harder and it is an experience I would definitely do again. Waking up at 5am and having to march at 6am was a nightmare at the beginning but it taught me discipline and self-pride along the week, it brought people together that we had never spoken to and we became a crew, a family. We had never expected or anticipated we would do as well as we did especially going against military and cadet units that train for this, day in and day out, and are older and stronger than us, but, we stayed motivated and most importantly we trusted and believed in each other, I would say that was what got us into the main final and labelled us as the top UTC. Who said age and height matters? We proved them wrong!" 
Team facilitator at Elutec who attended the final in Portsmouth Mrs Jan Tricks said, "5th place overall and TOP UTC … our young people gave their heart and soul in this competition with a starting place of zero to this magnificent result. Every knock, blister and every bead of sweat showed them as the amazing young people they are. When they could go no further and were exhausted they dug in deep to find something more to give. I am honoured to have facilitated this event for Team Elutec again, and plan to do so in 2018. This is incredible progress and what the Royal Navy called Extraordinary." 
The crew members were proudly presented with certificates and medals pitch-side and loved visiting the Stadium to celebrate their achievement. Joining us to make the presentations was Warrant Officer 1 Stu Clayton from the Royal Navy. 
Linking to the Elutec and supporting the crew as the Foundation did goes to highlight the sheer diversity of the work done through the West Ham United Foundation, as they continue to have a positive impact on the lives of those within our local community.