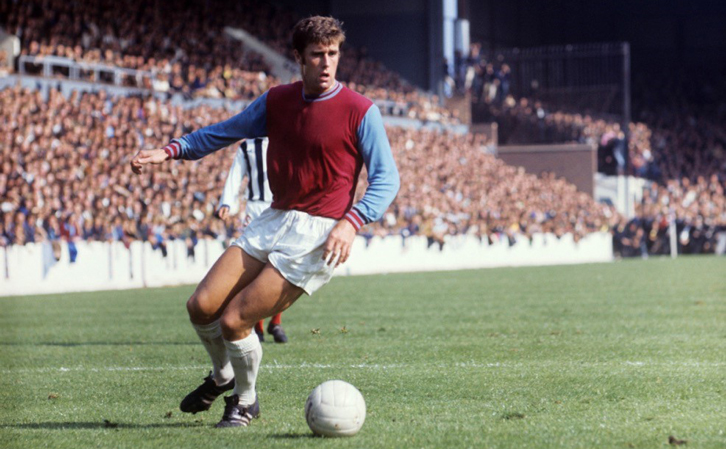 Here is a rarity for you: a feature on Sir Geoff Hurst scoring a hat-trick that doesn't involve the World Cup final and a Russian linesman!
While the West Ham United and England legend will forever be honoured around the globe for his most famous treble at Wembley on 30 July 1966, it's fair to say he didn't find the unique goalscoring achievement an unfamiliar one.
During his prolific 14-year playing career with the Hammers, Hurst scored three goals or more in a single match on no fewer than nine occasions – a record only bettered by the great Vic Watson.
And one in particular holds resonance with Tuesday night's fixture. For it is almost 50 years to the day since West Ham faced Bolton Wanderers in the third round of the League Cup, on a chilly night in Upton Park in front of 20,510 supporters.
Ron Greenwood's men ran out 4-1 winners, with all four goals claimed by our unstoppable No10, who took his tally for the season to 15 goals in just 13 games.
Half a century on, and with a career total of 249 goals in the Claret and Blue to reflect upon, the memories and details are understandably a little hazy, but one element of Bolton's visit back in October 1967 does stand out.
"Bolton were a tough side back then," recalls Sir Geoff. "They were renowned for being very physical, particularly at the back, and you were always guaranteed a few bruises.
"The centre-half who was marking me that night – not very well as it turned out! – whacked me early on a couple of times from behind. Of course, in those brutal, medieval days, defenders could tackle from behind, just take people's legs away without even trying to get near the ball.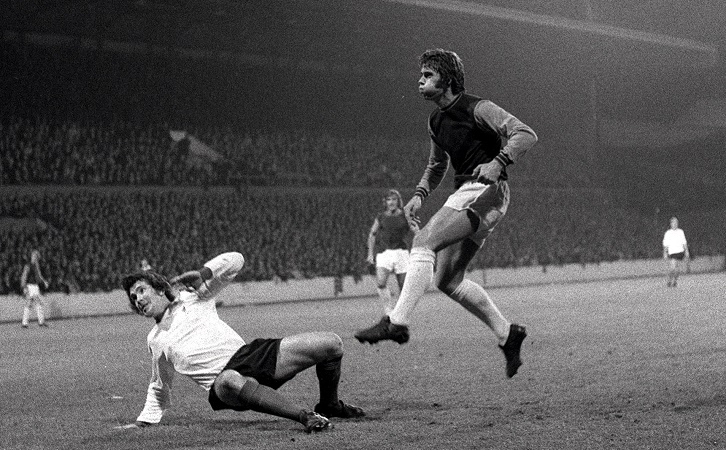 "After he'd whacked me again, I turned to the ref and said something like: 'Come on, this is getting ridiculous'. And the defender replied: 'Don't be silly, I've only hit him three times!' That was back when they could foul you six times without even getting a warning!"
The record books show that West Ham's line-up that evening included both right-wingers Harry Redknapp and Peter Brabrook – who wore the number nine shirt – with John Sissons wide on the left, ensuring plenty of service for goal-hungry Hurst.
"It's an interesting factor," he says, "because both Harry and Peter were out-and-out wingers who liked to hug the touchline.
"What it probably tells you is that we got plenty of crosses in that night and I'm pretty sure that my four goals will have included a couple of headers!"
In the career of a striker, you can generally see where his peak years are by looking at the goal totals for each season. And in that period just after winning the World Cup, the goals were just flying in left, right and centre for me

Sir Geoff Hurst
His quadruple strike that evening wasn't the first time Hurst had hit four in one game – he had achieved the feat almost exactly a year earlier against Fulham in a 6-1 Division One victory, which he then followed up two days later with a treble in the famous 7-0 thrashing of Leeds United.
Such exploits summed up the impact and reputation that Hurst carried during that period, as one of the finest goalscorers of his generation, and not surprisingly he looks back on his record of 137 goals in the space of just four seasons between 1965 and 1969 with great pride.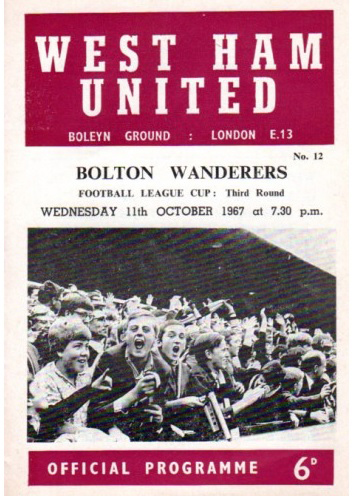 "In the career of a striker, you can generally see where his peak years are by looking at the goal totals for each season. And in that period just after winning the World Cup, the goals were just flying in left, right and centre for me.
"I remember some time after the World Cup, I did an interview in which I said that I felt ten feet tall, and the newspaper came to Chadwell Heath set up a photograph with me standing on a bench and the camera pointing up from my toes so that I looked like a giant!
"You remember those funny little things, but that was how I genuinely felt at the time, so confident in front of goal, and the four goals against Bolton in 1967 were right in the very middle of that spell. It was a great time for the club and for me personally."
Coincidentally, the Hammers were drawn against Bolton at home in the League Cup again the following season, this time running out 7-2 winners at the second-round stage.
No prizes for guessing who notched a hat-trick that night…
HURST HAT-TRICKS FOR WEST HAM
3 goals v Newcastle United, 11 December 1965 (First Division)
4 goals v Fulham, 5 November 1966 (First Division)
3 goals v Leeds United, 7 November 1966 (League Cup)
3 goals v Swindon Town, 28 January 1967 (FA Cup)
4 goals v Bolton Wanderers, 11 October 1967 (League Cup)
3 goals v Bolton Wanderers, 4 September 1968 (League Cup)
6 goals v Sunderland, 19 October 1968 (First Division)
3 goals v Burnley, 3 October 1970 (First Division)
3 goals v Hereford United, 14 February 1972 (FA Cup)
This article first appeared in the West Ham United Official Matchday Programme. Click here for details of how to subscribe.