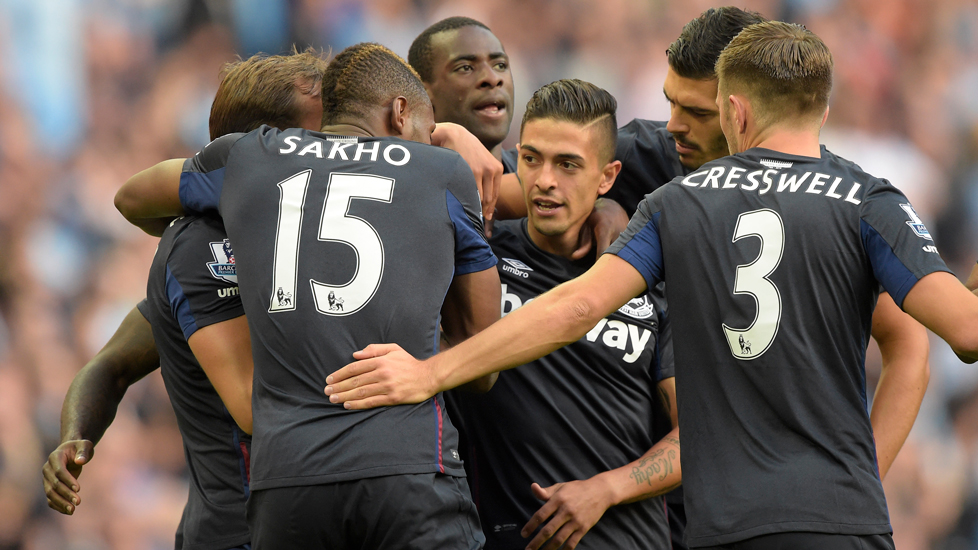 West Ham United's spectacular start to the 2015/16 season continued on this day two years ago when they secured a battling 2-1 victory at table-topping Manchester City.
With away league wins at Arsenal and Liverpool already under their belts, the Hammers added a third major scalp to the tally with a resilient display at Etihad Stadium.
The foundation for victory came from two goals scored within the first 31 minutes, followed by sturdy defending for the next hour to frustrate Manuel Pellegrini's side.
West Ham could not have asked for a better start, with Victor Moses lashing a low shot beyond Joe Hart's dive to give the visitors the lead inside six minutes.
If the Hammers fans were pinching themselves at that, they were sent into dreamland 25 minutes later when a corner dropped to Diafra Sakho, who forced home from close range.
Kevin de Bruyne pulled one back moments before the interval, setting up a second half bombardment which the Hammers survived, thanks to heroic defending and an inspired goalkeeping performance from Adrian – with five of his eight saves coming in the second 45 minutes.
The three-point haul left the Hammers second in the early league table, still holding a perfect away record of three wins from three.
In their words: How the men who beat Manchester City saw it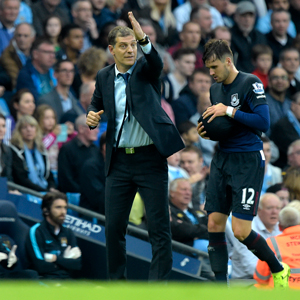 Slaven Bilic
I was so happy for the players because you cannot win at Manchester City without playing well. We created some chances and then in the second half we fought like a unit from the goalkeeper to the last man.
At times we were lucky but you have to be when you are winning at their stadium. They are such a massive team. We were able to control their pressing and we were so happy to go there and win.
Adrian
I was just back from a suspension for this game and it was fantastic to be back in the team, win the game, keep a clean sheet and score two goals against a team who hadn't conceded in their previous five games.
What a three wins they were – Arsenal, Liverpool and Man City! I don't know if anyone has won those three away games in the history of the Premier League, but I do know that It's really difficult to play against those three on the road. We put in really good performances, we defended well and we were so effective in attack.
I had to make some saves and all the saves for a keeper are important because you save the team and don't let the other team score, so for me to win the three points as a team and get the confidence was really important.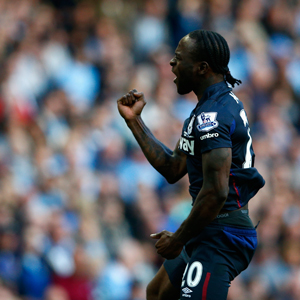 Victor Moses
It wasn't a bad way to start at West Ham! That was a massive win at Manchester City and I was very happy to score. I should have scored on my debut against Newcastle but it wasn't to be and it was great to score at the Etihad.
When it was 2-0 I thought we could have scored more goals, but then City scored and we had to defend really well in the second half. Reid was on fire, everyone at the back was solid and we deserved the win.
Diafra Sakho
Every player worked so hard for the team and had a big motivation to win that game. The manager spoke to every player and we knew we had to give 100 per cent. Our tactics were very important.
I wanted to score as I had only got one goal at Liverpool up to that point in the season. As a striker I want to score and I was pleased to get my second goal at Manchester City.
Of course Manchester City had very good individual players like Yaya Toure and David Silva, so I was very happy that we managed to get a win as they had not lost a game coming into the game. It was a great result.
Manuel Lanzini
It was an unexpected victory, but we did it because of our hard work.  Adrian was very good in this game. He made good saves and thankfully for him we won.