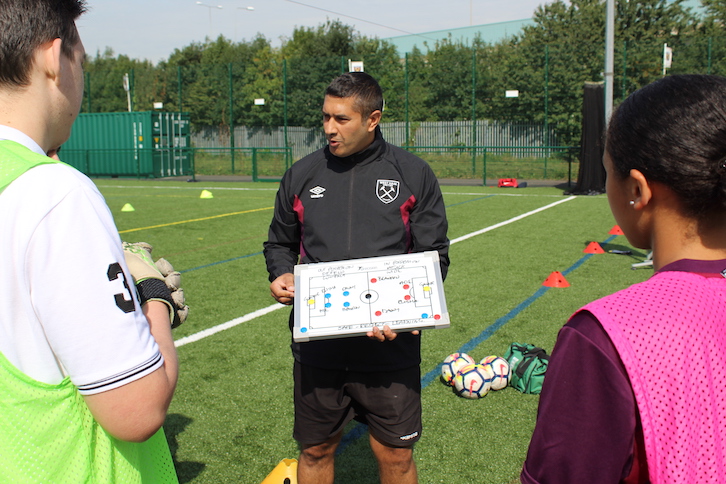 For Sajid Shafiq, the West Ham United Foundation has given him and his son unique and life-changing opportunities. He has been taking his son Luka, who is on the autistic spectrum, to the Foundation's inclusive football sessions since the PL/BT Disability Fund started in 2016.
Whilst he enjoyed watching Luka, who is a keen young footballer who has taken to the sessions at the Foundation with impressive enthusiasm, Sajid was always looking to do more.
So when he learnt that there may be an opportunity to gain his football coaching badges and develop himself and his son through the Foundation, he jumped at the chance.
"The inclusive programmes the Foundation run are fantastic, but I was interested to know how I could help and get more involved" said Sajid. "Rashid (the Foundation's Employability & Coach Education Manager) has been a great tutor, and I've learnt so much from the Level 1 course that I can now take forward to help both my son and other children and young people within the programme."
For the Foundation, 'inclusive' work and delivery is absolutely vital. Projects working with SEN youngsters and those with a disability have spread into more schools than before, with the Foundations own inclusive sessions engaging with other 500 youngsters and young adults with a disability. All of this work is done with a view to those participants then being able to follow a pathway into other sessions, just like any other participant. Many Disability groups and charities now come to the Foundation to access their coaches to deliver football or multi-sport sessions, host and run tournaments, seek advice or even book awareness talks delivered by the head of inclusion.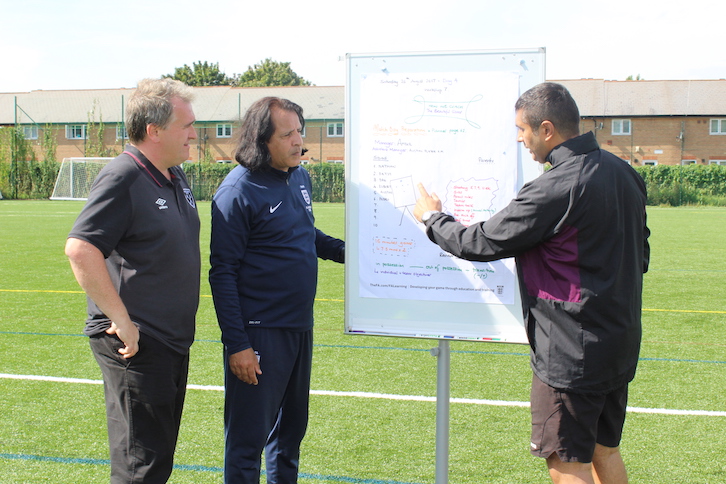 "It is important to us at the Foundation that our work is never seen in any way as a 'tick-box' exercise", said Austin Hughes, Community Sport Manager at the Foundation. "We have put on great sessions and linked many more participants, not just specifically to football but physical activity as a whole, which can bring many health benefits. Our next aim is to start to spread that awareness and inclusive nature onwards."
The PL/BT Disability Fund was launched as a national programme to be delivered by 22 clubs in 2016 to create possibilities for disabled people through sport - helping to remove the barriers that mean, at present, disabled people are half as likely to participate in sport as non-disabled people.
During that first season, the West Ham United Foundation played a prominent role, not only supporting the launch of the programme here at the Stadium but also delivering some great support and sessions. After a great first season, how exactly could the Foundation build on what it has already done?
One of the first actions for the new year within the PL/BT Disability Fund has been to bring the parents and families around the participants closer to the work – and Sajid has immediately benefited from this shift. Around any disability, especially those such as Autism of which Sajid's son Luka lives with, it can be difficult for parents to find that time to link with their children doing what they enjoy.
"All parents are passionate about their children, so we know exactly what it can mean to other parents to learn that they can become involved in this way" said Austin. "That's why we were so keen to be able to offer this coaching qualification to Sajid."
Sajid has now completed his FA Level 1 coaching badge through the Foundation, and will not only be able to coach as a volunteer, but also be able to link directly with his son in doing something that he enjoys. Rather than standing to the side and just watching, Sajid can now become a very real part of the sessions his son enjoys. His point of view as a parent will also further guide and help the Foundation in setting more sessions, as well as bring reassurance to any parents bringing new youngsters to our sessions.
For Sajid, this is just the beginning. "I'm delighted to have my coaching badge now, and thank the West Ham United Foundation for all their support through it. I'm now looking forward to getting out on the grass and coaching!"