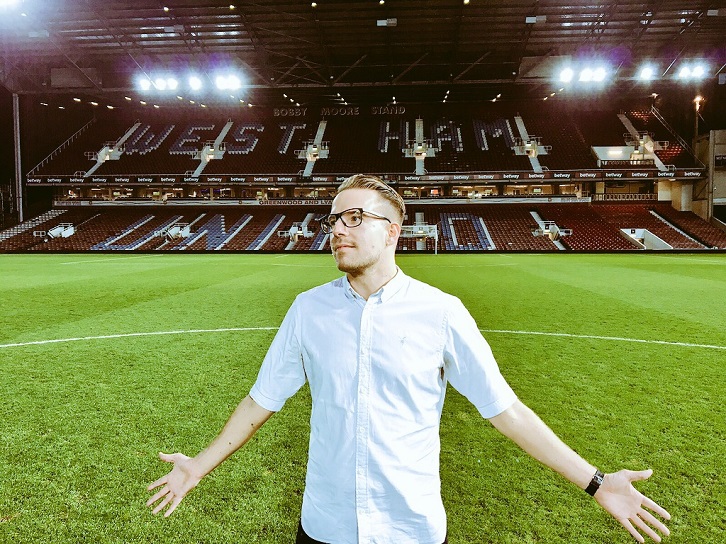 West Ham TV's 'Watch With' presenter and lifelong Hammer Chris Scull makes lists of things and asks if you remember them. Today, it's his Top 3 'Forgotten' Foreign Debuts...
Let's face it, when supporting West Ham in the '90s and '00s, there was nothing more exciting than signing a foreign, exotic sounding player you'd never heard of. Somehow, the knowledge that your team had in its midst a player of unquantified ability makes the world seem unlimited in its potential; the birds sing, hopes soar high. Then they actually play and do something like scythe Gary Neville in half on their debut (Boogers), or go shopping at Harvey Nicholls instead of pulling on the shirt at Stockport away (Răducioiu), or refuse to play at all until they're handed the number 10 shirt (Futre). You get the idea.
Anyway, we're all aware of the well-known successful foreign imports; DiCanio, Miklosko, Tevez (still feels too soon to mention a certain Frenchmen here). But few catch the eye immediately and burn bright. Well, here is their moment. Ladies and gentlemen, the Top 3 forgotten foreign debuts...
3. Marc Rieper, 10 December 1994, Leeds United 2-2 West Ham United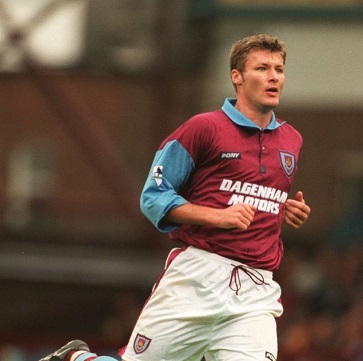 In 1994, Leeds away was a game I'd mentally write-off. Especially when you're 2-0 down after 24 minutes and watching on teletext. But somehow we pulled a draw out of the bag with two Jeroen Boere goals; and telephoning clubcall that day (50p a minute), I remember hearing one name I didn't recognise: 'Marc Rieper'.
Excuse the list within a list, but there are several curious things to note about Marc Rieper. a) He never had any gel in his hair, it being in a state of constant fluff. b) He was a really good defender at a time when we hadn't indulged in such a player for several years. And c) he won the fans over quickly. We liked him so much that we made him his own bespoke chant. I say 'chant', it didn't follow the pattern of any chant I'd heard before or since. We'd just shout "RIE-PER, RIE-PER, RIE-PER' relatively tunelessly.
2. Frederic Kanoute, 26 March 2000, West Ham United 2-1 Wimbledon
In the many years I've been coming to watch West Ham matches, I've never heard a reaction to a debut like I did with Freddie Kanoute. He came on loan from Lyon, and was literally the best player I'd ever seen on their debut, so good in fact, that our whole home support started chanting at manager Harry Redknapp to "sign him up". I need to say that again in italics for emphasis: our home support sung in unison for the manager to make a loan signing permanent, after a single game. After that day, 29 league goals in 84 games, that's how good he was.
Then came the relegation season of 2002/03. A record points relegation partly borne out of him being injured for a good while, as well as him missing a late penalty against Arsenal in August; that otherwise would have seen us safe if it had gone in.
As preparations for the division below began, we're forced to sell a huge swathe of our squad and Freddie was no exception. If we're honest with ourselves, it's probably because he went to Spurs that he appears in the 'forgotten' category here. But I would add that in 2005, he wanted to come back. Pardew wanted him back; and then fan pressure against a return, bad blood from his move to Spurs, officially ended Kanoute's homecoming.
Freddie went on to sign for Sevilla, score and win in the Europa League final in 2006, then score as many La Liga goals as Ronaldinho the season after.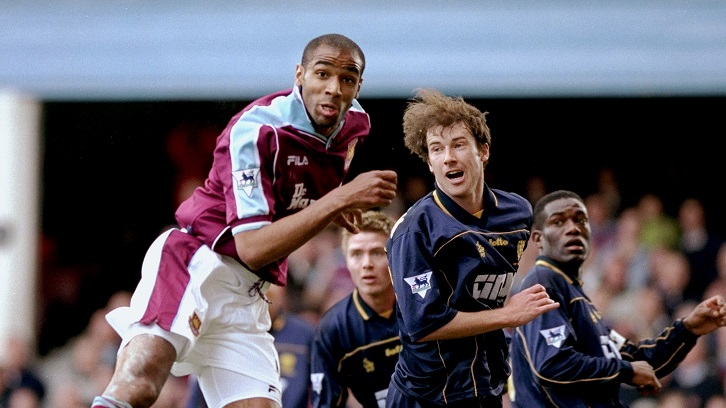 1. Tomas Repka, 15th September 2001, Middlesbrough 2-0 West Ham United
If Julian Dicks was 'The Terminator', Repka was 'ED-209'. On the pitch, he appeared to be made of granite and seemed to possess the humanity of a slab of the stuff.
He came in as a club record signing, £5.5m from Fiorentina. Fiorentina! As in 'The Land of Batistuta!'. A club record as well. All eyes on his debut at the Riverside. Two yellow cards, Repka sent off on the 80th minute. We lose 2-0. RIght.
"Okay, no problem. Fine Tomas, you get a red card on your debut, bad luck fella. Sit out your suspension, come back for your second appearance"... He comes back for appearance two, Blackburn away, sent off again, we lose 7-1. Riiiight.
Despite that start, and despite relegation in 2003, Tomas stuck around and slowly morphed into a much loved and able member of the team.
He announced his departure halfway through the 2005/06 season and played a last league game (number 167 with absolutely zero goals) against Fulham at home, with everyone in attendance aware this was his last game for us. We won 2-1. At full time, we chanted his name. He applauded us back. Then, in a moment I still scarcely believe, started to cry. He was human after all.