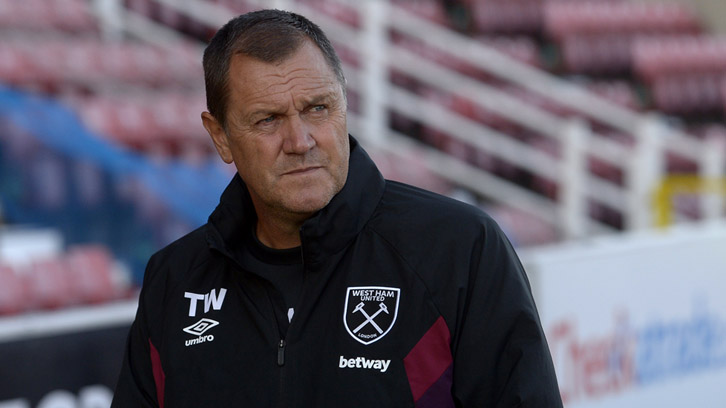 Terry Westley says his U23 players should not use poor preparation as an excuse for their 3-1 defeat to Leicester City on Monday night.
The Hammers suffered their first Premier League 2 defeat of the season at the King Power Stadium, going three goals down before Toni Martinez grabbed a late consolation.
And despite a near-six hour journey almost postponing the fixture and reaping havoc with the visitors' planning for the game, Westley explained his players must think about their level performance before blaming other factors.
He said: "It wasn't the greatest of preparation – of course – but I don't want to make excuses for the players. It did make it very, very tough, but having said all of that, we were in the match at half time, so it's no excuse.
"We always looked like we could get a goal. We missed a couple and got one at the end, but because we'd conceded those two at the start of the second half, it was all over by then.
"You must be resolute, stay with the game, defend properly – those bits let us down. We needed to stay in the match. 1-0 down, you stay in the match, you can walk away with a point. That's something you have to do as a first team player at any level.
"If you want to go on loan, managers and coaching staff are looking for players who can stay with it when it's tough, and we didn't have enough of them tonight.
I don't want to make excuses for the players. The journey made it tough, but we were in the match at half time, so it's no excuse

Terry Westley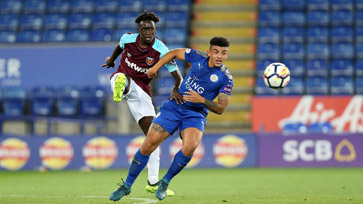 "The journey is really hard, especially if you're young and that hasn't happened to you before or seen that too many times. You can't relax – you don't know if it's going ahead. It's hard for a young player to really focus but once the game starts, you've got to play."
The Hammers looked dangerous on the break, rushing past their hosts at every opportunity going forward, however defensive lapses meant the game was beyond their control just a few minutes into the second period.
Steve Beaglehole – Leicester's coach – did, though, field an extremely strong outfit, with summer signings Kelechi Iheanacho and Vicente Iborra scoring and Robert Huth also starting.
"They had a strong team," Westley continued. "They had £50m-worth on the pitch, which is a lot for an U23s game. The whole game was difficult for us.
"Maybe I made the wrong decision to play. At one stage the Premier League said we can call the game off. But then we decided to move on the motorway so we decided it should go ahead.
"There were positives – Josh Pask and Toni Martinez worked hard and looked the senior players, more than can be said for a few of them.
"Marcus Browne [coming back from injury] got 45. I don't think the trip helped him but he's back on the grass and that will do him the world of good. It was a real tough decision to leave out Dan Kemp.
"We obviously had Sead [Haksabanovic] playing with us, and Kemp has been one of our best players and done well with England. It was a real tough decision.
"Now we look ahead to Liverpool in a week. They've played four, won four, and our unbeaten run is gone in the league. It's time to dust ourselves down, work hard and go win games with some magic – something we know we can do."