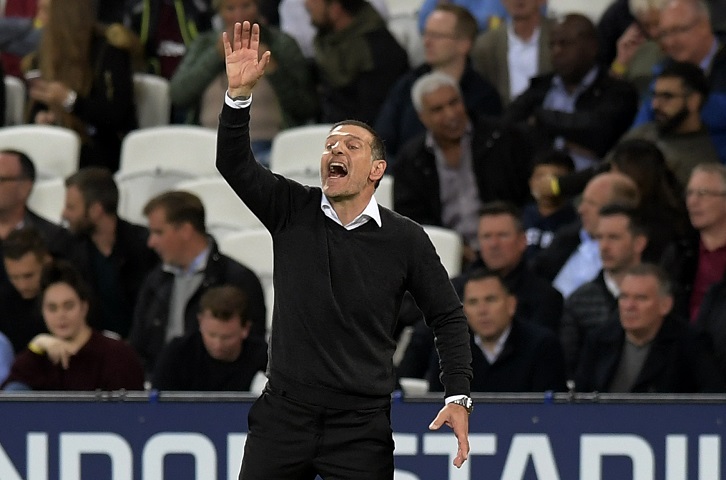 Slaven Bilic says West Ham United 'really feel at home' at London Stadium after kick-starting their 2017/18 Premier League campaign with a 2-0 win over Huddersfield Town.
The Hammers have lost just one of their last five top-flight matches on Queen Elizabeth Olympic Park, keeping four clean sheets and scoring important victories over Swansea City, Tottenham Hotspur and, last night, the previously unbeaten Terriers.
And manager Bilic says the players, coaching staff and supporters are enjoying their visits to Stratford more and more with every game they play their.
"We are pleased," he began. "We struggled at this stadium at the beginning of last season in the Watford game and Southampton game and even in the games we drew against Stoke and Middlesbrough, but then in the second half of the season, in 2017, it was only Man City a couple of times and Liverpool that we had a bad performance, and even in those performances we started well for half-an-hour.
"In the game against Spurs, against Palace, the game against West Brom even though we drew 2-2, we were at home. We lost the game against Leicester here 3-2 but apart from the first seven minutes when we conceded two, I felt at home and the players felt really at home.
"So, this is becoming or it already became our home and we can't wait to play here again. That's the situation now. We feel that this is our home. It will never be Upton Park, but it doesn't mean it can't be our home.
"I really have a feeling and I see the players who trained here at the weekend that we like it more and more here. That can only come with results and good individual performances and good memories from the games, especially the big games. And we won a few big ones here recently, like against Swansea, against Spurs and this one on Monday night. That's why I'm very, very positive about that."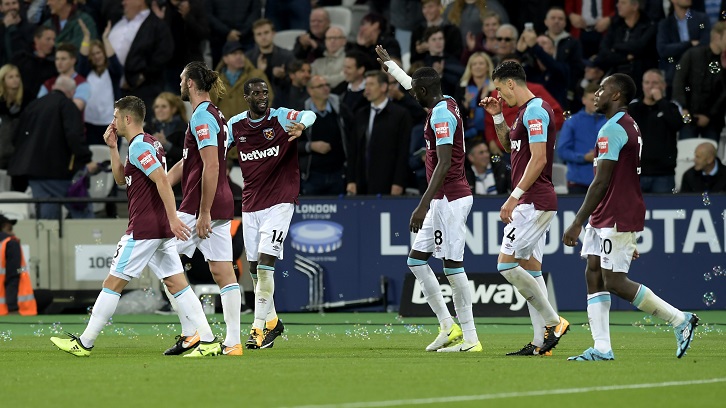 Reflecting on Monday's deserved victory, which was achieved through second-half goals from Pedro Obiang and Andre Ayew, the manager was happy with the manner in which his team executed his game plan.
The Hammers went on the front foot from the kick-off, pressing Huddersfield high up the pitch and repeatedly winning possession inside the visitors' half.
With Andy Carroll leading the line superbly, the hosts created 19 goal attempts, won ten corners and put 32 crosses into the Terriers penalty area – compared to 47 in their previous three Premier League matches put together. At the back, West Ham restricted Huddersfield to just one shot on target and three corners.
"I told the guys, even if we didn't win the game, I'd say 'Well done' because they gave everything," Bilic revealed. "It was a top performance from us, not in the sense that we played beautiful football and all that, but it was a top performance in terms of being on the front foot, determined and executing the game-plan, avoiding the middle zone, trying to get the balls behind them, to the feet Antonio or to Andy and to squeeze them and get the second ones.
London Stadium is becoming or it already became our home and we can't wait to play here again. That's the situation now

Slaven Bilic
"By playing like that in the first half, we basically stopped them creating anything, which builds your confidence and leaves them feeling a little bit down. A lot of things were happening in the first half in and around their box – crosses, corners, free-kicks, chances and all that – but paradox of the game was that we didn't score then.
"We scored the goal in a period when we had lost a bit of momentum and were stretched a little bit and lost that push up from the back, but we provoked the luck. That goal brought us back into the zone of extra energy and happiness and all that and then we scored the second one and kept our concentration to the end.
"We basically limited them to one good strike, so the boys showed basically everything that we asked of them."
Bilic also took the opportunity to clarity recent media speculation surrounding his relationship with Joint-Chairman David Sullivan and the summer transfer window.
"Relations are good. Of course the media - you are not twisting my words - but if I speak for five minutes you are using just what you want to use," he said. "I said nothing bad about the Chairman. On the contrary, I said we have done good business. 
"We wanted to get one more player, and I said that the story from Sporting [Lisbon] is not true as far as I know. And I don't know everything, but I know a lot of it as the story with [William] Carvalho was going go for eight weeks. It was about money in the end, and we did everything apart from more money.
"I defended him (Mr Sullivan) and the Board and I only wanted to clear the situation with those couple of players, [Renato] Sanches and [Grzegorz] Krychowiak. 
"So, on the contrary, I never said a bad word about the Chairman and I never will. Especially not in public. If I have to say something to him we are in direct communication so that's it basically. 
"I said he is the one doing the transfers and he is the one I communicate with on a daily basis and he has done really good business."