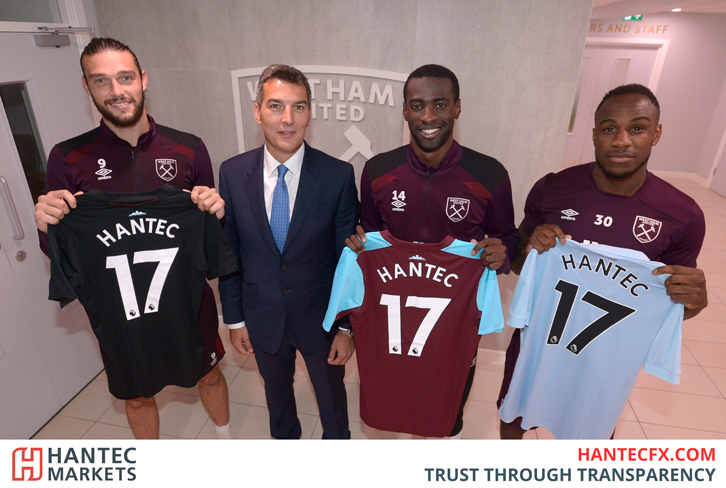 West Ham United are delighted to announce an agreement with Hantec Markets as the Club's new official FX partner.
Hantec Markets has been a market leader in Forex trading services for over two decades, connecting clients to the world's largest financial markets through their bespoke trading platforms.
Hantec Markets join West Ham United at an exciting time, as the east London club embark on their second season at the iconic London Stadium. Both brands continue to operate at the forefront of their industries, whilst maintaining heritage values that benefit both customers and fans.
The company has signed a three-year partnership at London Stadium and will, among other things, take ownership of the Club's Fantasy Football content, where there is a clear synergy between Hantec Markets' trading heritage and football trades.
As a major Premier League power in Asia and the Gulf, West Ham United FC are the perfect platform for Hantec Markets to develop key relationships in important international markets. With offices in London, Sydney, Tokyo, Hong Kong, Auckland, Dubai and Mauritius, Hantec Markets continue to expand their geographical reach. By uniting forces with West Ham United, the emphasis is to gain stronger brand recognition in both the UK and abroad.
West Ham United Vice-Chairman Karren Brady said: "I am thrilled to welcome Hantec Markets to the West Ham United family. Hantec Markets' brand values and 'trust through transparency' slogan fit perfectly with West Ham United's approach and we are very excited about the benefits that the partnership can bring as we continue to grow and develop our corporate identity on a global scale."
Hantec Markets Chief Operating Officer, Hayel Abu-Hamdan: "We are delighted to have the opportunity to partner West Ham at this exciting time of growth and development for both Hantec Markets and the Club. We are one of the longest established FX brands in the global markets, and we believe West Ham's traditions, the famous loyalty of their supporters and their bright future, mirror our own as a company.
"As we launch a new website providing an even better service for our new and existing clients, we see ourselves taking a firm foothold in the premier league of brokers. With ever increasing interest in both the financial markets and the Premier League, we view our respective London bases as a perfect cohesive line-up. We very much look forward to working with the team at West Ham United.
"We wish West Ham United FC the best in its current and upcoming seasons. Come on you Irons!"