Manager Slaven Bilic spoke to the media ahead of West Ham United's first home game of the 2017/18 Premier League season.
The Hammers host newly-promoted Huddersfield Town on Monday evening desperate to pick up their first points of a hitherto difficult campaign.
Bilic was asked repeatedly about recent headlines surrounding the Club's late summer transfer activity, but insisted his own focus is 100 per cent on turning things around on the pitch.
Here is what he had to say…
'I want to talk football'
After confirming team news for Monday's game, Slaven Bilic was quizzed relentlessly about the story which has made headlines this week, namely speculation over West Ham United's pursuit of Sporting Lisbon's Portugal international midfielder William Carvalho.
The manager responded patiently to the line of questioning, but was eager to point out that it will be future results, and not past transfer dealings, that he will be judged upon.
"I'm here to talk about everything, but first Monday's game," he said. "The window is finished. I can understand you want to talk about that, but my job is not to talk about that. If you want to ask others responsible, you can. My job is to raise the performance. We didn't start well but Monday is a good opportunity to start winning games and get on the right tracks.
"That's where my work and concentration is. The lads are training well after the break. We have the weekend to train and I'd prefer to talk about that. We can't do anything about the window now. I want to talk football."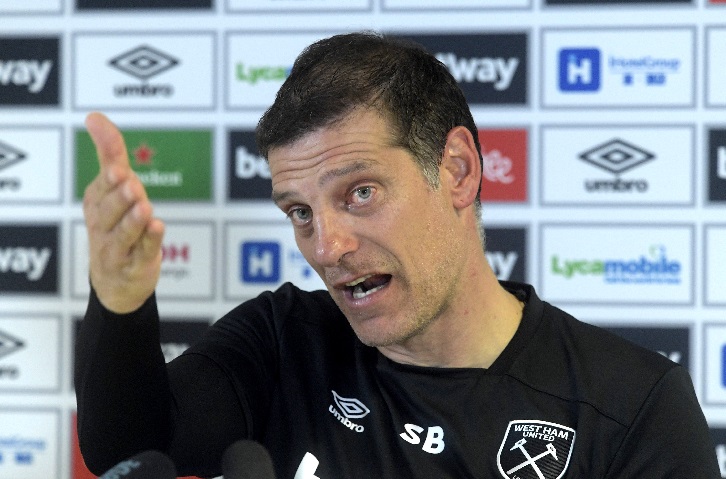 'We need to stop Terriers' momentum'
Having insisted on talking about football, rather than other off-field matters, Slaven Bilic was asked to assess Monday's visitors Huddersfield Town.
The Terriers have impressed many on their Premier League debut, winning two and drawing the other of their opening three top-flight matches without conceding a single goal.
Bilic has been among those whose eyebrows have been raised by David Wagner's side, and he knows his players will need to up their own level of performance if they are to stop the Terriers' momentum.
"They have started well, they didn't concede," he observed. "They have seven points. We have seen before with teams that get promoted from the Championship, they keep the momentum and they look good. Do they look dangerous and a good team? Yes. Do they look fit and energetic? Yes, they do.
"We have respect for them and we will have to be on top of our form to beat them. They are a good team. It's a squad that last year got promoted and have good memories of last season. They've added to the squad with good players and their start gave them a big boost. It's a probably a really positive atmosphere around them, so we have to stop it."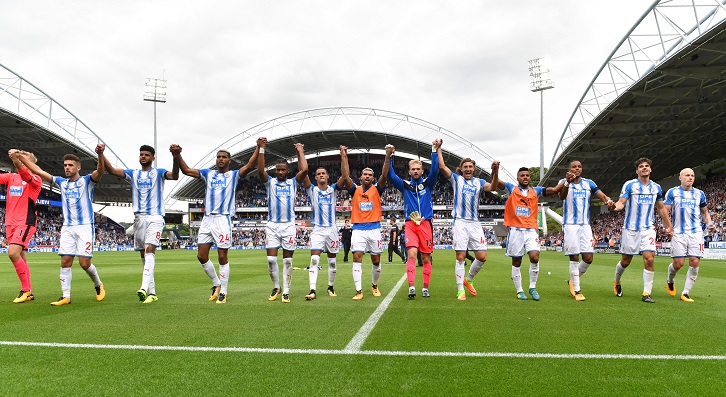 Monday night football
In the light of West Ham United's recent troubles, Slaven Bilic welcomed extra time to prepare his players for Monday's Premier League visit of Huddersfield Town.
The Hammers play their belated first home game more than 48 hours after many of their nearest rivals, giving Bilic more time to work with a squad decimated by international absences over the past fortnight.
The manager also revealed that his squad will train at London Stadium twice over the weekend, helping them to reacquaint themselves with surroundings they last experienced nearly four months ago.
"Firstly, it's good to play at home again," he said. "We've played three away, now we're at home and it's been a long time. We train at the stadium on Saturday and Sunday and to go into the dressing room, to feel it more before.
"The Spurs game [which we won 1-0 in May] is a good memory… and we're expecting a similar atmosphere. It's a Monday night game and it's our first game there.
"It helps we have those extra days. We had players who came back today or yesterday, because we don't only have European players, but Africa and South America and Mexico and they're long trips. I'm pleased we play Monday, because it gives us a couple more training days."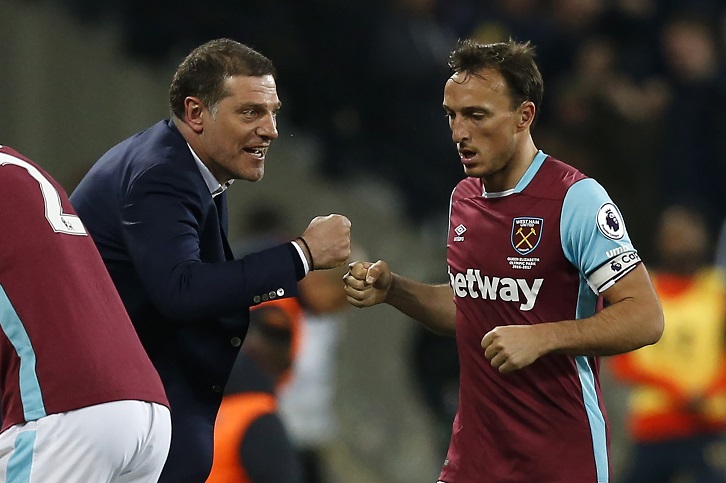 A 'massive game' calls for massive support
Slaven Bilic and his West Ham United squad have found themselves under pressure on a number of occasions during his two-plus seasons in charge.
In 2015/16, the Hammers were chasing European football all season long, while 2016/17 saw them start slowly and need to win a succession of vital matches against their rivals to steer clear of a relegation scrap.
After losing their opening three matches of the current campaign, the Hammers again find themselves under pressure, but Bilic believes previous experiences will stand them in good stead when they host Huddersfield Town on Monday evening.
"We have had a few [massive games]!" he smiled. "If you remember in the first season, we had big games for different reasons. Second season, suddenly they started to be crucial after fourth game of the season. Even Watford at home was like the big game, that was the fourth game.
"I don't know why, but it was. The whole of last season was like that, so I'm used to it. We've been there before and we showed that we can cope with it. We showed in difficult moments we have the quality and the character – as individuals and as a team – to get out of that situation. It means we can do it again this season."
And if they are to 'do it again' when the chips are down, Bilic knows his players will need the support of a capacity London Stadium crowd.
"They're always great for us," he observed. "During and after they might not be happy on social media, but of course they're angry. I never felt that during the game or before or in the beginning, they're always great. You feel them and see them in numbers and then it's up to us to make them even more behind us."