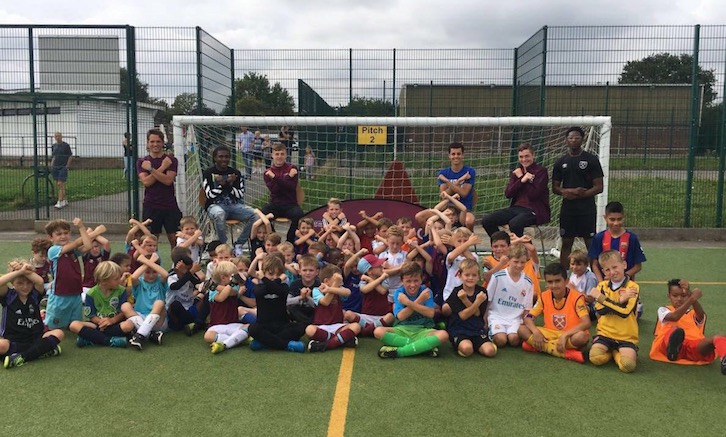 Youngsters attending the West Ham United Foundation Soccer School were given a fantastic surprise when four players from the Club's Premier League 2 squad visited their session last week.
 
Dan Kemp - who has been in fine from over the international break with England U19s - Nathan Holland, Vashon Neufville and Conor Coventry visited the Foundation's Soccer School session at Emerson Park Academy, and got involved with some of the drills and activities, with the kids also getting the chance to grill the players, asking them all manner of questions, ranging from their diets to their toughest opponents.
Jacque Edouard, Programme Development Officer at the Foundation, said "We really appreciate the visit from the players, considering their commitments as professional athletes.
 
"They were great and participated in the sessions engaging with the young people. It means so much to the kids participating on our Soccer Schools. It was clear to see they were motivated and inspired by the visit, many also showing the confidence to ask great questions during the question and answer session.
 
"We like to think one of these kids could be answering the questions one day as a future West Ham United star."
 
The Foundation's Soccer schools run all year round and are open to children of all abilities aged between three and 15.
 
To book on for October half-term Soccer Schools, please visit soccerschools.whufc.com.