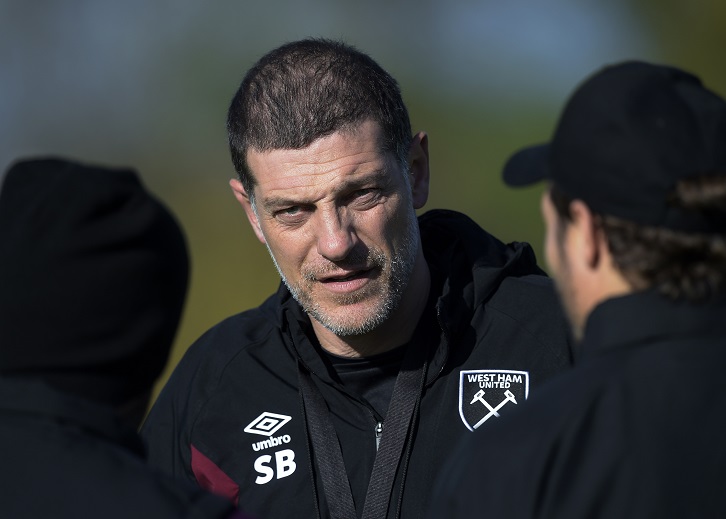 West Ham United manager Slaven Bilic is expecting a big performance at Crystal Palace today after a confidence-boosting comeback victory over Tottenham Hotspur at Wembley on Wednesday evening...
Hello everyone,
We have certainly seen the contrasting emotions that football can bring over the course of the past seven days.
There is no denying that our defeat against Brighton at London Stadium was a painful experience, and there was not much I could say after the game to make things seem better.
But in this game there is simply nothing to be achieved from dwelling on negatives or feeling sorry for yourself, and our victory on Wednesday at Wembley was a reward for the character and belief that the players showed.
It is not the first time we have come from 2-0 down to win - it happened in my first season as manager up at Everton.
And I have to say that there were similarities between the two games, in that even when we were 2-0 down, I saw signs that convinced me that we were still in the game. We had enough of the ball and dealt with the opposition well enough to be in a position to turn it around.
Of course, goals change games, and the main thing on Wednesday is that we took our chances when we got them, but it wasn't a complete shock to me that we managed to produce a fightback.
I was also happy with what I saw in the dressing room following the game. After a victory like that, it is important to let the players enjoy the moment and share the celebration together - that is how a team builds a special bond.
But there was a determination and focus among them, that we all want to carry into this afternoon's game at Selhurst Park.
Crystal Palace, like us, haven't had the start to the season they would have hoped for. They are a club who have already made some big changes this season, and they are desperate for a positive run.
We go into the game on the back of very different results - us beating Tottenham in the way we did, and them losing 4-1 to Bristol City. They are a wounded animal, as we were after last Friday's game.
For that reason, we have to be completely focused and make sure that we start the game in the same way we finished off on Wednesday.
But that doesn't mean it automatically happen, and it isn't just a case of putting out the same players who came from behind against Spurs.
My job is to pick the team that I believe has the best chance of beating Crystal Palace, based on how we expect them to set up and which of our players we believe are best suited to the type of encounter we are likely to face.
Of course, confidence and form is a big part of that selection process, and there are some players who came into the team on Wednesday and performed well enough, in the second half particularly, to deserve to be considered for today's game.
But, as a manager, that is what you hope for. That you get to a position where players who haven't been in the team regularly take their chance when given an opportunity and give you a selection headache for the next game.
I don't ever take anything for granted, but I am hoping and expecting a big performance today. We go into the match fresh from the positive experience of Wednesday and having beaten Crystal Palace twice last season.
Manu Lanzini scored in both those victories, and he is a big player for us. Wednesday was an important game for him - he is now reaching the physical levels he needs to be at his best, and that is a very promising sign.
I know that the majority of our fans at Selhurst Park today will have been at Wembley on Wednesday, and I hope we can all share and feel that momentum once the game kicks off today.
It is another London derby, another huge game, and we are all determined to repeat that feeling we had walking back into the dressing-room at Wembley after the final whistle in midweek.
Come on you Irons!
Slaven