Slaven Bilic met with the media on Friday afternoon to provide insight and analysis ahead of West Ham United's Premier League match with Crystal Palace.
The manager was asked about the squad's mood after Wednesday's win over Tottenham, the Eagle's recent form, and media speculation.
'I like big games'
West Ham's opponents, Palace, head into Saturday's match on the back of a tough run of form – one that has seen them win just once this season in the league and lose their last match in the Carabao Cup to lower league opposition.
With this in mind Bilic was questioned whether he was pleased to be playing the Eagles at this point in their season, just a few weeks after Roy Hodgson was named their new manager.
Bilic said: "When the new manager comes it's better to play them straight away because everybody needs a little bit of time to get to know the players and vice versa. They beat Chelsea and it was a big boost for them, and since Chelsea they lost to Newcastle although they played good and deserved something out of that game.
"No defeat is good but that Cup defeat was big for them, but then there were resting most of their players."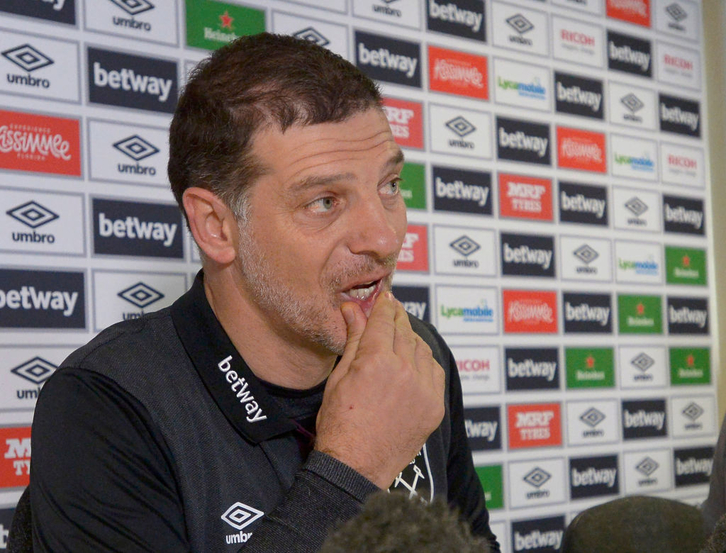 Despite this the manager is still anticipating a difficult match for his Hammers in another London derby, but Bilic is relishing the challenge.
"I'm expecting a very tough game tomorrow. A very big game. A game of characters. A game of basic things. A physical game. A mental game. A game that will be decided with togetherness and also a bit of quality, that I know we have but also, they have. I hope we are going to use it to make a difference. But first of all, both teams will have to be very strong, mentally and physically.
"Again, it's a derby and to be fair I'm really looking forward to the game. I like big games and we're expecting that tomorrow."
A confidence boost from Spurs
A 3-2 comeback victory over rivals Tottenham has put the entire team, supporters, and Bilic himself in good spirits heading into Saturday's fixture.
The manager was asked what such a win, in such a manner against local opposition, did for the team.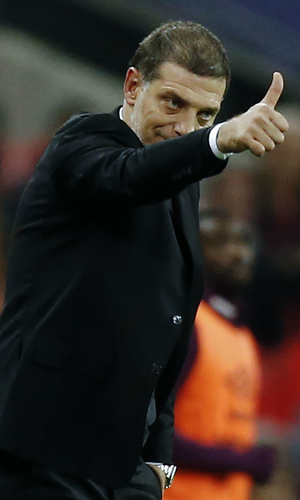 "It means a lot of course," Bilic said: "Like every defeat gets you a little bit down. Also, every win gives you a boost and a better atmosphere, both for the team and also the individuals. Especially if it happens like it happened the other night. It was a very important game against Spurs, it's always a special kind of game and especially at Wembley. To come back from 2-0 down to 3-2, it gives us a lot of confidence.
"I noticed if we raised the level of quality in the last third we had a chance. The next goal was the key one and we also improved our game when they had the ball. I asked that they raised the level and to stay calm, not to lose focus or faith. That's what the guys did in the most beautiful way."
The manager was keen to emphasis however that his players would not assume victory over Palace was guaranteed due to the win over Tottenham.
"No, no way. No way," he said when asked about over complacency: "We beat Tottenham and I said straight after the game that if we think that now we've beat Spurs that good performances would come by default it would be totally wrong.
"We know we have to build on that performance and to make it even better, to cut out the mistakes. No one thinks like that."
'My job is about balance'
Crystal Palace manager Roy Hodgson recently described football as a "constant succession of funerals and parties" and that his job as the new boss was to keep his players level.
When asked about this quote Bilic was in agreement with his coaching colleague, saying balance is crucial to any team.
He said: "The whole world, no matter in what way of life, there is no middle. It's all extremes. The weather is like that! There's no Spring or Autumn, there's Winter or Summer.
"As I said before, your job is to keep the team balanced and in the zone. Not to be too down when on a bad run and not to fly when you're winning three or four games. Always stay focused and think about the next game you have.
"That's a big part of our job because everybody else is trying to bring you down if are good and if you aren't, everyone else is trying to lift you as high as possible. You can't allow that."
'I'm focused on the things I can influence'
Bilic was once again asked about media speculation but the manager says he is only worried about the things he can influence in his position.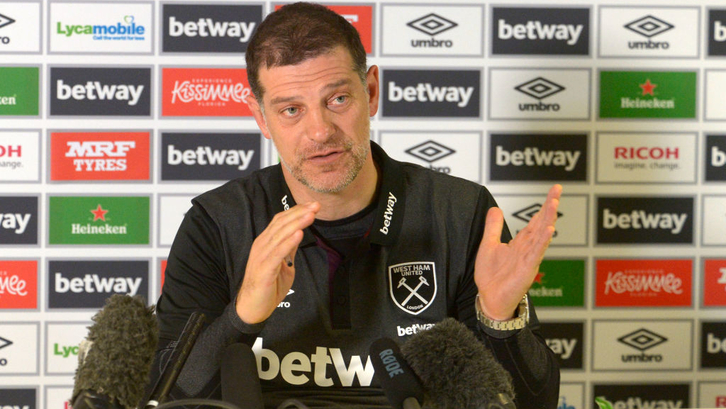 The Croatian believes that focusing and bringing positivity will see that speculation subside.
"There are rumours but I talk to the chairmen, not every day, but often enough. I know my situation and our situation.
"As I've told you, I'm totally focused on the things I can influence and that is only the training, talking to the players, and the game. I am totally focused on the game because only with that in your head can you improve and you can affect those kinds of rumours to change."
'The next game is most important game'
West Ham have eight points so far in the Premier League this season but, when asked if Crystal Palace was the most important game of the campaign, Bilic offered a philosophical answer.
"We said the same against Huddersfield and the same against Swansea. The same against Brighton and the same against Burnley. It's the Premier League and it's a very important game.
"It's the most important game. In every league, the biggest game and most important game is the next one. For us that's the game against Palace tomorrow."