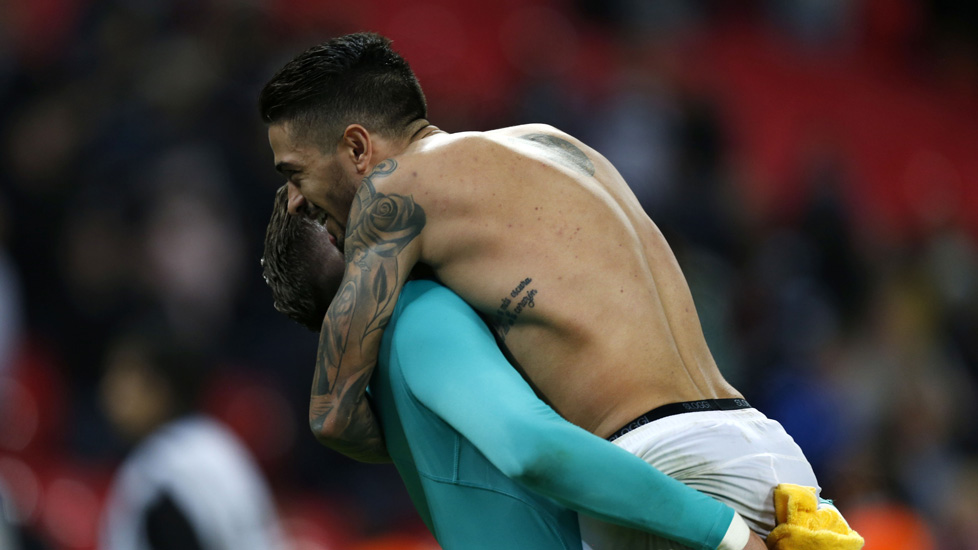 Manuel Lanzini says the wonderful Carabao Cup comeback against Tottenham Hotspur has given West Ham United an 'enormous morale boost'.
The Hammers were in need of a metaphorical shot in the arm after a shattering 3-0 home Premier League defeat by Brighton & Hove Albion, and got it at Wembley on Wednesday night.
Playmaker Lanzini was key to the terrific turnaround, supplying the corner which led to Andre Ayew's first goal and the assists for the Ghanaian's second and Angelo Ogbonna's stunning winner.
"I hope it's the turning point of the season," said the talented Argentine, who continued his own personal trend of excelling in London derbies. "These games, beyond winning them, give you an enormous morale boost.
"Obviously, it was important for us because it wasn't just a big match but a derby, and you always have to win derbies. But hey, we have to continue this way. We know that we have to play like this, with this desire, with this attitude. We have great players and we want to continue this way.
"I'm happy for the two assists but above all pleased by the performance of the team in the second half. We were looking for, something like this [since the first match against Tottenham], we couldn't do it in the League but luckily it happened in a major tournament like the Cup and we hope to continue this way.
Lanzini also had words of praise for manager Slaven Bilic, citing his half-time tactical adjustments and motivational team talk as reasons for West Ham's resurgence.

It was a strange match because in the first half we started very badly. We were uncomfortable on the pitch and we left huge spaces in midfield. In the second half we went different, a couple of indications that made us change the formation and pressure system, and that's what made us turn the game around.
"We are with the manager, we have known him for three years, he knows us. He is a very good person and we are going to do everything possible to help him continue on our bench."
Next up for the Hammers is a trip to Crystal Palace – another opponent that Lanzini has enjoyed success against in the past, with four goals and an assist in just four meetings.
"Of course, we go into Saturday in good spirits now. On Saturday, it is a big game for us also with a good team in Crystal Palace, so we need to keep going like this, to train hard and put the same mentality into that game.
"Wednesday's game was good for us, for the manager and the team, and we need to keep going like this, and that's it."