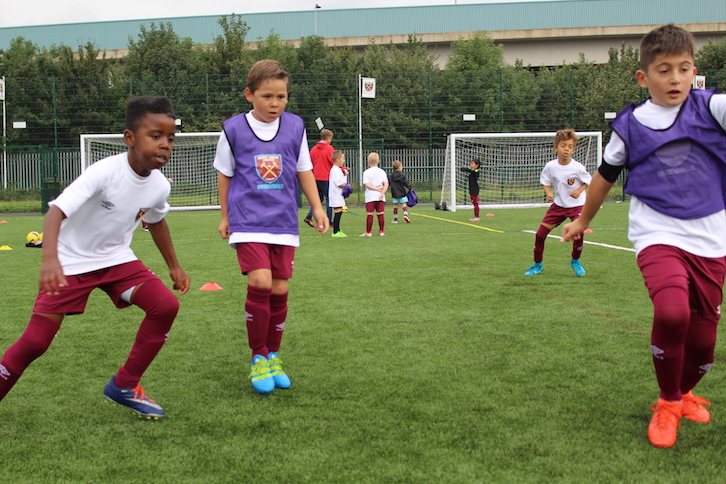 For West Ham United Foundation, safeguarding is a vital part of the work we do every day. We sat down with Bryan Glover, Head of Football Development at the Foundation to talk about how that happens in practice. 
From our programmes in schools, right the way through to our life-changing football opportunities, keeping our young people safe is of paramount importance.
Our Soccer Schools, which run during the school holidays, are a key pillar of our safeguarding work. With those Soccer Schools always expanding – now based in wider areas of East London and Essex, it is vital we make sure each venue is chosen for its high standing stature within the local community.
Each venue is visited prior to delivery and risk assessed, and then a daily risk assessment is carried out prior to all delivery. With a ratio of 1 coach for every 16 children in place on all of our courses, we make sure that coaches are able to constantly monitor the young people – helping keep them safe.
All of our courses are visited a minimum of 2 times each week by both the Soccer Schools Programme Lead and an Academy Integration Officer, ensuring quality remains high and player pathways are in place. The courses are then visited once a week by the Foundation's safeguarding team.
Outside of course time, our coaches are quality assured once a quarter, and there are 4 CPD activities throughout the year to keep our coaches well trained and refreshed.
Commenting on his commitment to safeguarding, Bryan said "I am proud of the work we do on safeguarding, not only within my department but across the Foundation and Club. Keeping our young people safe is at the heart of everything we do, and we are committed to ensuring all of our courses are high on quality, safety and of course fun! We continue to work hard to ensure we are challenging ourselves to provide the safest football courses in East London and Essex."