Manager Slaven Bilic pens his exclusive column ahead of Friday evening's Premier League fixture between West Ham United and Brighton & Hove Albion at London Stadium...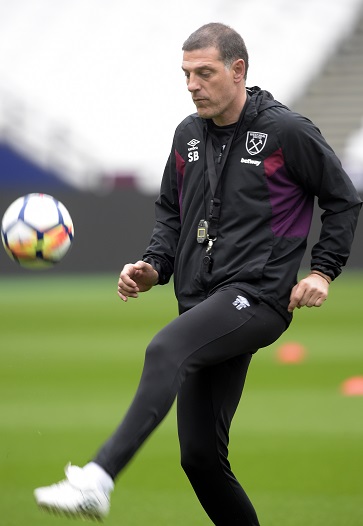 Hello everyone,
We welcome Chris Hughton and his Brighton team to London Stadium for the first time tonight, feeling very positive and hoping to secure our fourth victory in five home matches so far this season.
Like a lot of newly-promoted teams, Brighton are well-organised, enthusiastic and, understandably, have a more cautious approach away from home.  So we know they will make it difficult for us this evening, and we will need to be fully focused and maybe patient, as we were against Huddersfield and then Swansea in our last match here.
I have already said that it wasn't a beautiful game against Paul Clement's team and, yes, there are things that we can improve on but, make no mistake, it was a great victory.
We know there are no easy games in the Premier League and we know that sometimes we are not going to be able to play with the freedom and style that we would like. But when that is the case, a good team finds a way to win.  
Among the squad, there is definitely a confidence and belief that comes from getting a result when the performance and rhythm perhaps hasn't been at the level that you would like it to be. I can see that we are solid, we are committed, we fight for each other – and that is a good sign for any manager.
We came away from Burnley last Saturday with mixed feelings. To be leading with five minutes to go, having defended so well throughout, meant that it was naturally frustrating to concede an equaliser and finish with one point instead of three.
However, having played with 10 men for more than an hour, we have to be honest and realistic and say that a draw is not a negative result, away from home against a team who have made a great start to the season.
Of course, all of the headlines on Sunday were about Andy Carroll's red card. I said what I had to say about the incident after the game. He is an experienced player who knows the mistake that he made. 
But Andy is someone who puts his body on the line every time he steps on the pitch. Physical aggression is a big part of his game and, when it comes to challenging for the ball in the air, he is fearless in his pursuit of winning it for the benefit of the team.
For that reason, the margins can be fine, and there are going to be times when the line is crossed, even if the intention to win the ball is genuine and honest.
The important thing for me was to see the right response from Andy in training this week, and that has definitely been the case. I have no doubt that he will bounce back in the right way and continue to be an important player for us as we approach a busy period.
Thankfully, we are in a position where we still have strong attacking options in his absence this evening. It is the start of a busy and exciting week that sees us travel to Wembley on Wednesday to face Tottenham and then to Crystal Palace next Saturday and we will be hoping to keep our momentum going in a positive manner.
Come on you Irons!
Slaven Bilic