Mark Noble is ready to play his part against Brighton & Hove Albion on Friday evening.
The captain was an unused substitute for Saturday's 1-1 Premier League draw at Burnley, but his experience, input and encouragement still played a big role in West Ham United securing a point, despite playing for more than an hour with ten men.
And Noble says his absence from the starting XI was a representation of just how strong the Hammers' squad is, now the Club's injured players have returned to action.
"Whether I am involved from the start or not [on Friday], I will prepare the same way and give the same input in the dressing room and on the pitch, either way," he said.
"I have played regularly for this Club for over a decade now, but we now have a bigger and stronger squad than ever and that means the manager will take decisions to pick certain players for certain matches.
"Some people might think a player being left out of the starting XI is a big talking point, but it isn't, for me. It's just the result of the Club having a big squad full of quality players and only eleven of them can start the game.
"We saw against Swansea that substitutes can make a massive difference when they come on and, at the end of the day, football is a results game and our substitutes helped us get a positive result in our last home game."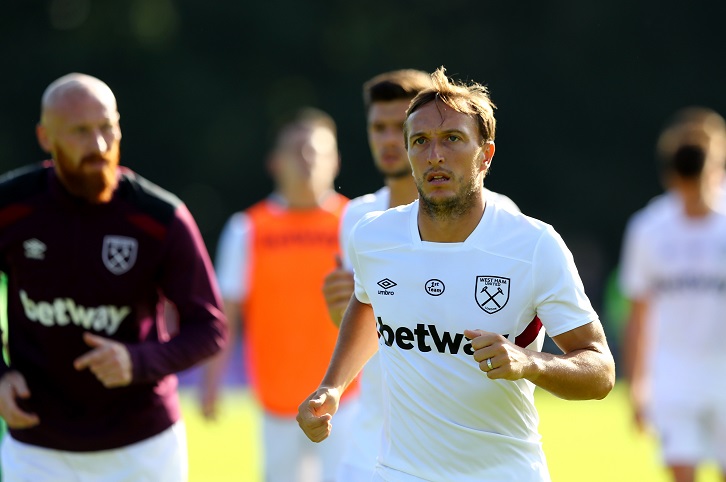 Looking ahead to Friday's London Stadium meeting with newly-promoted Brighton, Noble says another strong defensive showing will be the foundation for another home victory.
West Ham have won three out of four games at London Stadium in all competitions this season, five of the last eight dating back to March, and three points against the Seagulls would move them into the top half of the Premier League table for the first time this season.
"All that matters at this stage is putting points on the board and sometimes you have to sacrifice your playing style to win games, and we probably did that a bit against Swansea City here last time out. At the end of the day, a win is a win, and that is all that matters.
"That victory was built on the fact we defended well and had kept a clean sheet going into the final stages of the game, then we brought Manu, Arthur and Diaf on and they combined to make the difference in the end.
"Hopefully, now we have moved up the table a bit and got a few more points, we can play with a bit more freedom and enjoy ourselves."
Standard Tickets for Friday's Premier League fixture with Brighton & Hove Albion are available now via the Ticket Exchange.
The match will also be screened live in the UK by Sky Sports, with kick-off at 8pm.