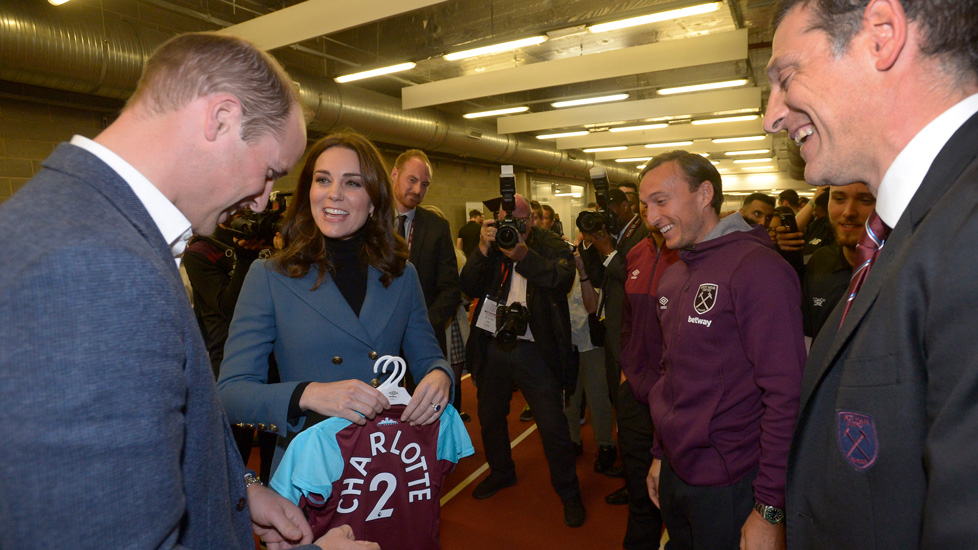 West Ham United were proud to welcome the Duke and Duchess of Cambridge and Prince Harry to London Stadium, where the Club played host to a graduation ceremony of 150 apprentices from The Royal Foundation's inspiring apprenticeship initiative Coach Core, who partner with Hammers.
Coach Core improves the availability and quality of sports coaching whilst creating much needed employment for young people, and West Ham's home proved the perfect backdrop for an event about opportunity, hard work, and achievement, which included participation from a number of Coach Core apprentices who have now been employed as part-time coaches in the West ham United Foundation.  
Vice-Chairman Karren Brady welcomed the illustrious guests and accompanied them on a tour which included practical demonstrations, which were supported by manager Slaven Bilic, captain Mark Noble and Chicharito.

In her speech at the graduation ceremony, Vice-Chairman Brady spoke about the Club's commitment to the community, and the desire to change lives through education. 
"This Stadium represents for us far more than simply being a venue for Premier League football matches," she said. "When we secured it as our future home in 2013, it was our vision that London Stadium would become the heart of a community and a place where young people can see opportunity, success and a bright future, whatever their background.
"My Board are fully committed to making a genuine difference to people's lives and a key focus for us has been doing so via something which is close to my heart – advancing the education and development of children and young adults."
"We have in recent years worked with, mentored and delivered opportunities for 120 apprentices with an incredible 87 per cent from Newham and the surrounding Olympic boroughs.
"Our work with the fantastic Coach Core began when we arrived here at the Stadium last summer and has seen all of the 2016/17 cohorts end up in part or full-time employment here at the Club, such was their potential and talent."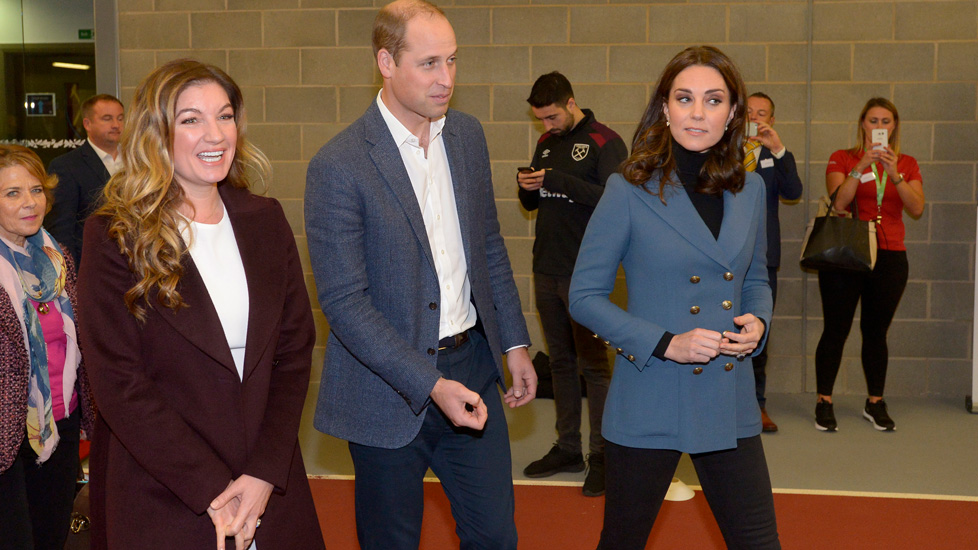 The Duke and Duchess were impressed at the quality of coaching displayed with some key names in sports providing masterclasses, including Max Whitlock, Judy Murray and Will Greenwood.
The West Ham United first team trio of Bilic, Noble and Chicharito held their own football masterclass, but were also in demand for autographs and selfies, before sharing a conversation with all three Royals in attendance.
"It was my first time meeting royalty and, of course, it was a huge honour to meet and talk to them," Bilic said. "They are very down to earth and know about football, while we also had a very interesting discussion about the project.
"We spoke about how important Coach Core has been in giving kids a chance, with a clear path to a good education and the opportunity for a better life. When I was young there wasn't opportunities like this available. 
"The kids are enthusiastic - it means so much to them and it was a big pleasure to spend some time with them.
"I'm very proud to be a part of this Club and all of us connected to West Ham are very proud to be a part of this project."

In a lighthearted moment which brought smiles to the faces of all in attendance, Noble produced a gift for The Duke and Duchess - West Ham United shirts for Prince George and Princess Charlotte.
"It was just a little something from all of us at West Ham United – we wanted to make them feel as welcome as possible," said Noble.
"I met Prince Harry years ago at Upton Park but it was meeting my first time meeting Prince William and Princess Kate - it was fantastic to see them all.


Noble added: "We spoke about the Stadium and what West Ham being in Stratford has done for the local area. 
"Coach Core has given young people a chance to get involved in sport, which is very important in my eyes. It was a pleasure to play a small part in helping them."