Slaven Bilic sat down with the media on Thursday afternoon to give a typically insightful press conference.
The West Ham United boss was asked for his opinion on a host of subjects by broadcasters, including his attacking options for the Premier League trip to Burnley, rumours surrounding Chicharito's future and Andy Carroll's impact on his team.
He also paid his respects to the fast start made by Saturday's opponents and tipped Clarets boss Sean Dyche to become a future England manager…
Headache? What headache?
When it was suggested that Bilic may suffer from a selection headache when it comes to picking his team for Saturday's game, the manager said he would not be reaching for the painkillers.
Rather, the Croatian welcomed the strength in depth he will draw upon at Turf Moor, where he will have a full complement of attacking players available to him.
Andy Carroll, Chicharito and Diafra Sakho are all vying for a centre forward position, while Michail Antonio, Manuel Lanzini, Marko Arnautovic, Andre Ayew and Sead Haksabanovic are all in contention for attacking midfield roles.
"It's not a headache. OK, it's another issue to use them all or to keep them all happy but if you're talking about in the long term, it's always an issue. But it's good finally to be in the position where we have, in those attacking and offensive midfield positions, your whole team.
"I said to my staff that I'm not saying they're all going to play, because that's impossible, but this is the first time that basically we have the possibility to put out the team we were thinking about in the pre-season that is, on paper, our strongest team.
"We're going to probably be in the situation to have that option."
Chicharito rumours simply 'not true'
Having revealed that Chicharito would only be returning from international duty on Thursday, Bilic confirmed that, barring any unforeseen issues, the Mexican would be in the squad which travels to the North West on Friday afternoon.
He also dismissed tabloid speculation that the No17 is eager to leave London for Spanish football, echoing the striker's own social media post.
"He said it's completely out of nowhere, it's not true and there's not one per cent of the truth in that and that's what I expected and so it's all like somebody made it up."
'Brave Burnley deserve their hot start'
While the two Manchester clubs and Tottenham Hotspur set the pace at the top of the Premier League, you do not have to scan too far down the table to find Burnley.
The Clarets have lost just one of their opening seven top-flight matches and sit seventh going into their weekend clash with West Ham.
When asked what he admires about Burnley, Bilic gave a typically detailed and studious response.
"Burnley are doing extremely well home and away. Last year they were a little bit too cautious, within reason, because they were promoted and then they were relegated the year after and it wasn't ages ago.
"Last year they were a bit cautious, as I said, and playing a little bit more on reaction than action, but they have changed it. They are still very solid and, when needed, very direct, but you can see them play and being more brave with the ball and on the ball.
"They kept the core of the team but added some more players and if you compare the team from the first game of last season with this, they have five new players or whatever, which is a lot.
"They have been on a good run and have confidence and they deserve to be where they are."
Does their start surprise me? Yes, it did, of course, especially their away form because last year I think they waited until March or whenever to beat Palace away and get that first away win.
"Now, if you don't mention it's them and ask 'Which team has beat Chelsea and Everton and drew against Spurs and Liverpool?', you would say Manchester United or Manchester City and not Burnley or West Ham.
"It's a big achievement and it did surprise me, but it wasn't lucky. They deserved it. They now have experience of the Premier League – not only the manager but the players and everything.
"They did well last season have confidence, they have changed some players and are playing with more bravery and more freedom when they have the ball, but they didn't lose the steeliness and compactness that is still the core of their philosophy.
"They are a very good team and all the credit and plaudits go to Sean Dyche."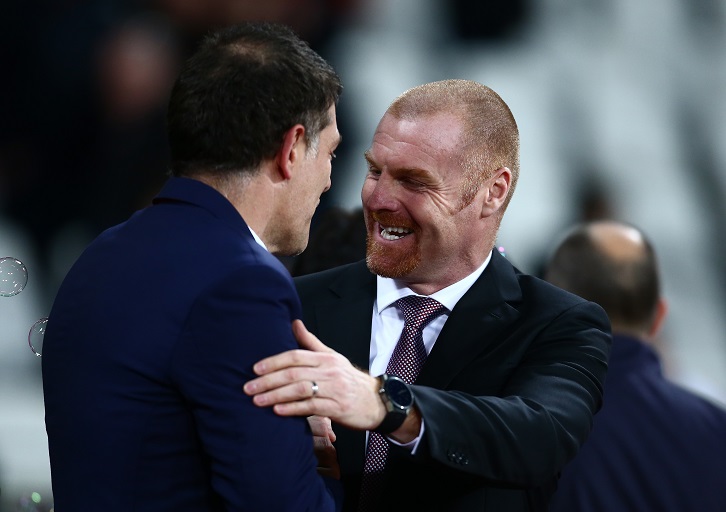 Dyche for England?
Speaking of Sean Dyche, Bilic was asked if the Burnley boss is a realistic candidate to take charge of the England national side in the future.
As one of just four Englishmen managing in the Premier League at present – Roy Hodgson, Eddie Howe and Craig Shakespeare being the other three – former Croatia boss Bilic believes the 46-year-old has many of the credentials required to be a successful international manager.
"Why not? It's always good for a national team to have a domestic manager. It's not a club. It's like, you have to understand the whole nation, the legacy, the culture, the expectations and all that.
"He's definitely one of them that has it. He's young and looks strong. He's got that voice! I'm joking, but he's doing a really good job.
"Last year his success was a bit under the radar and he is still at Burnley, which makes it easier in a daily job because you can afford some bad games but, on the other hand, it makes it harder to get that ultimate recognition. He's definitely a good manager."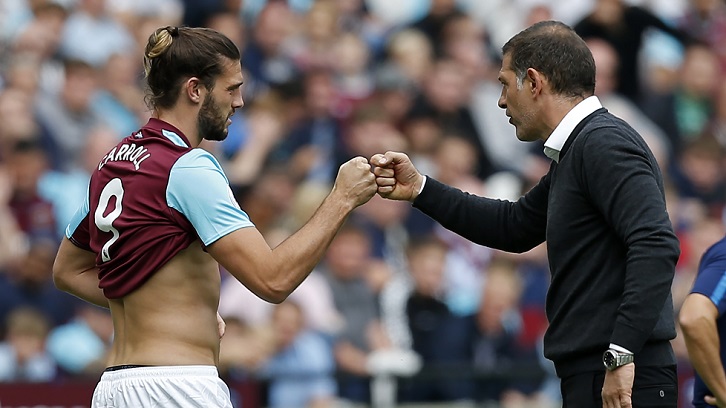 Big Andy's big impact
As is the case in every Bilic press conference, the name Andy Carroll popped up regularly in the journalists' line of questioning.
This time, the manager was asked to assess the No9's impact this season in the light of him having failed to score in his first six appearances.
For his part, Bilic was quick to point out what Carroll brings to his team, regardless of the number of times he finds the back of the net.
"Andy always makes an impact on the game, whether that is from the start or from the bench. Of course, we are expecting him to get fitter and be better and better with more minutes on the pitch.
"He's looking better in training than he was three or four weeks ago, which is only natural, because he was out for a long time, and now it's good.
"There is always pressure on centre forwards to score because if the team doesn't score, the centre forwards are not happy. You expect your strikers to score goals but, as I said two years ago and last year, you have centre forwards who are depending on their goals to prove they are working for the team, but Andy is not like that.
"He is working for the team, he is opening spaces, he sometimes has two or three players around him to stop him and that opens gaps and spaces for other players to use. Not to mention his flicks and lay-offs with head or foot.
"So, for him to make an impact on the game and to be very important, not to mention crucial for our game, he doesn't have to score goals."