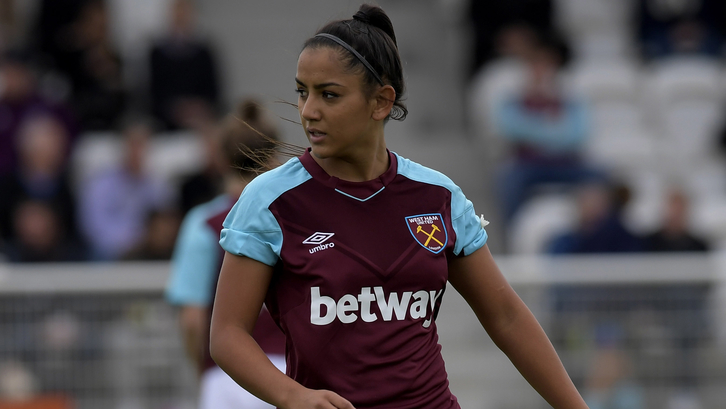 West Ham United Ladies are delighted to announce the signing of pacey attacker Rosie Kmita.
Kmita joins the Hammers from WSL2 side London Bees and the 23-year-old will link up with twin sister Mollie at West Ham.
"I'm really, really excited to be a part of West Ham," Kmita told whufc.com: "It's an exciting and ambitious team that is really going places and I wanted to be a part of that journey.
"I feel comfortable and happy at the Hammers. I want to be here for a long time now. I'm settled and want to be a big part of West Ham's project and future."
A quick and creative forward who is also comfortable on the wing, Kmita prides herself on her pace and determination.
"I'm a really attack-minded player, on a good day," she laughed: "There's a lot of urgency in my game and there's a lot of talking too. I don't shut up on the pitch. That's what I'm about – good communication."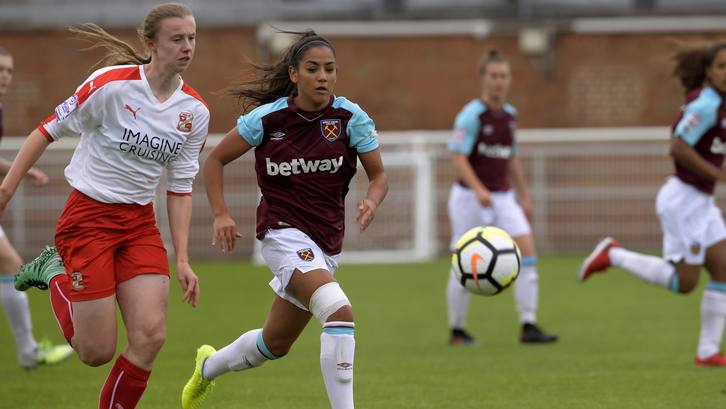 Despite her youth Kmita has already enjoyed experience at a host of top clubs across Britain. The forward spent the majority of her youth career with Tottenham – save for a single season in America – before joining Brighton at 18 in 2013.
A move back to Spurs followed before Kmita enjoyed short spells with Cambridge United and Gillingham Ladies. The attacker then spent pre-season with London Bees before joining West Ham.
Departing the Bees for West Ham includes leaving behind the WSL2 but Kmita is excited by the ongoing project at the Club.
She said: "Although I may have stepped away from WSL2 I don't feel like I've stepped down with this move to the Premier League Southern Division, but rather I look at it as a very good move both for my career and my life in general.
"The Club is very ambitious and is definitely going places. We will get to the top level. It's just a matter of when, not if."
I'm really, really excited to be a part of West Ham. It's an exciting and ambitious team that is really going places and I wanted to be a part of that journey

Rosie Kmita
Kmita made her debut for Greg de Carnys's side on Sunday, playing a crucial role in the 5-0 rout of Swindon Town, with her pace and creativity shining through in the win.
That experience also meant Rosie was in the same team as her twin, Mollie Kmita, once again.
The two sisters have always played at the same clubs apart from when Rosie opted to focus on her studies during her time with Cambridge and Gillingham, and the new signing is thrilled to be sharing the pitch with her sibling again.
On Sunday's match, she said: "It was lovely to make by debut against Swindon. I felt really welcome and it was brilliant.
"It's nice to be back with my sister too! We grew up playing together so it was a great experience for both of us. It was a really warm welcome from the fans. I was excited to get going and it was amazing to start the game."
Will West Ham fans be seeing some sibling rivalry on the pitch in the Ladies team from now on?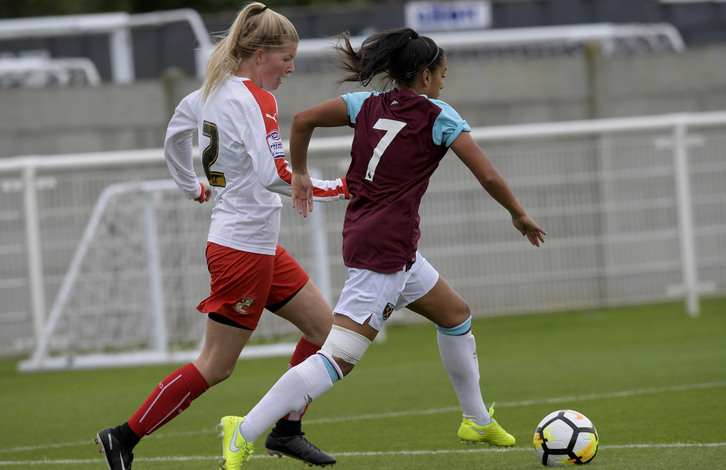 "No, because I always win!" Rosie laughed.
"Playing alongside Mollie is good. As a twin, you have a different kind of bond to other siblings and it's awesome to have those experiences together.
"If I'm not having a great game then Mollie will be the first person to tell me and get on my back in an effort to get me up, and it's the same the other way as well. It's good though. It's fun for us both to be at West Ham.
"We're very competitive but we'd never get to a point where we would be envious of each other. We are very supportive of each other and we have fun too."