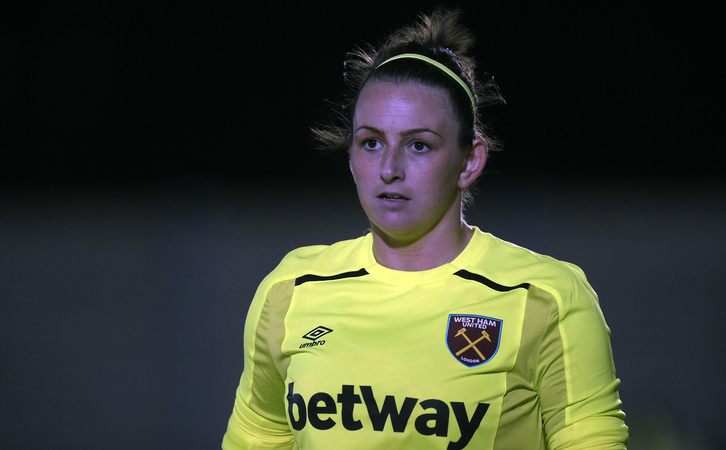 Goalkeeper Cherie Rowlands has admitted she is 'dying' to keep a clean-sheet when the West Ham United Ladies take on Swindon Town on Sunday.
The Ladies side are yet to play a match without conceding a goal this campaign in what has been a difficult start to the season for Greg De Carnys's side.
Swindon, who sit bottom of the WPL Southern Division with no points from their six matches so far, represent a good opportunity for the Hammers to get their own campaign back on track.
And Rowlands is desperate to get a first clean-sheet of her West Ham career but insists that her hopes for this cannot turn into expectation and complacency against Swindon.
We can't go into this game expecting to come away with anything – not a clean-sheet and certainly not the three points.

Cherie Rowlands
"I am dying to get a clean-sheet," Rowlands told whufc.com: "It will be lovely, absolutely lovely, but we can't go into this game expecting to come away with anything – not a clean-sheet and certainly not the three points.
"It's something we can hope for and fight for, and work as hard as we can to achieve, but it's paramount we don't just expect it."
Since joining the side Rowlands has been West Ham's first-choice goalkeeper, an honour that the shot-stopper is intent on keeping for the foreseeable future, despite her admittance that Lottie Ivison and Layla Prior are pushing her to her best.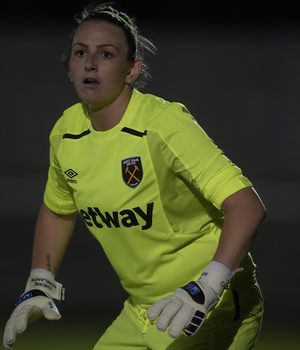 She added: "We've got Lottie and Layla and they're both pushing on. I never expected to come over to the club and play first team football as soon as I did. That's something I want to keep hold of.
"I love those other girls to death but that first team spot is something I continue to fight for."
After a run of losses, the Ladies have stepped up their efforts on the training field in the last week with the majority of the team volunteering their own time for extra sessions.
Rowlands has been impressed with the level of commitment she has seen from her colleagues at Rush Green and wants that determination and self-belief from the training pitch to carry over into Sunday's fixture.
"It's been a really good week of training," she said: "The girls seem to now realise that we can play football and play football well, and we need to start showing that now.
"The commitment from the girls in terms of getting into training – whether that shows itself as an extra day or coming in early – shows that we are now showing our willingness to give our absolute best for West Ham. Sometimes on matchday I think the self-belief for everyone, including me, falls away.
"The girls need to realise that we can do it and keep that self-belief high when we play Swindon this week."
West Ham United Ladies vs Swindon Town Ladies
Kick Off: 2pm, Sunday 8 October
Location: West Ham United Training Ground, Rush Green Road, RM7 0LU 
Cost: Free for Season Ticket Holders or Claret Members, Adults: £2, U16s: Free