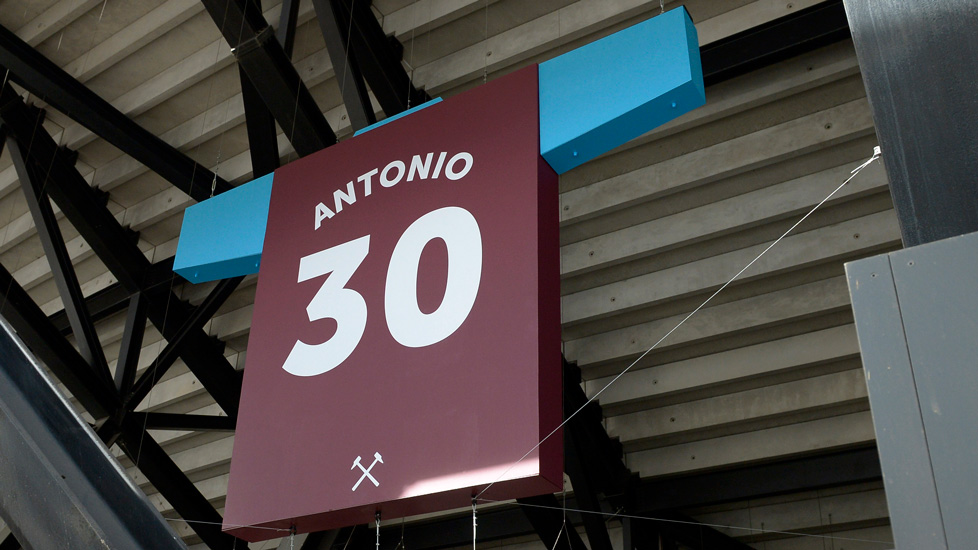 Michail Antonio has become the latest Hammers hero to be honoured with a giant hanging shirt bearing his name and number at London Stadium.
The 27-year-old winger has been celebrated in recognition of his status as the reigning Hammer of the Year – the first recipient of the prestigious award at our new home last season.
Antonio's number 30 shirt was unveiled this week and will now hang in the concourse for the entire 2017/18 season, alongside permanent tributes to Bobby Moore, Sir Geoff Hurst, Martin Peters, Sir Trevor Brooking and Billy Bonds.
"It's a great honour," said Michail. "To be named Hammer of the Year last season was a fantastic achievement and this is a really nice touch from the Club.
"To have my name and number up there with the likes of Bobby Moore, Billy Bonds and Sir Trevor Brooking makes me feel very proud and humble.
"It's thanks to the fans who voted for me. I'm so grateful for their support and hope that I can continue to repay them with goals and good performances this season."
Hammers fans will be able to see Michail's giant shirt for the first time at the next home match against Brighton on Friday 20 October, located by Block 131 at the corner of the East and Sir Trevor Brooking Stands.
Until midnight on Sunday, you can get free ANTONIO 30 printing on 2017/18 shirts purchased. Simply click here to buy now.