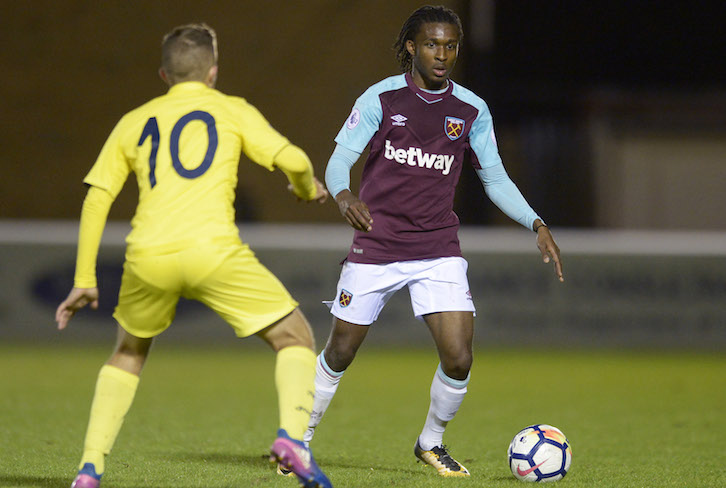 West Ham United's Vashon Neufville returned to action after three weeks off with injury, but was unable to help stop a ruthless Villarreal side who ran out 3-0 winners in the Premier League International Cup on Wednesday evening.

The left-back, who has become a mainstay in Terry Westley's side this year, had been out since early September with a hamstring injury but came back to produce one of the more impressive displays on what proved a tough evening for the Hammers.
"It's good to be back fit, I was out for a little while but now I feel good" he explained.

Conor Coventry was cheaply dispossessed in midfield and it cost the Hammers dearly as Adrian Dalmau scored the first of his three on the night just 15 seconds from kick-off. The Segunda B outfit were a constant threat and Neufville highlighted one area of the game where their visitors were particularly impressive.
"They were very good, they played a lot of one-two touch, moved it quickly and made things very hard for us." he said.
"They played a different kind of style to how we're used to in England, but in terms of moving the ball, it is a style that we try to play.
"They had a lot of players in the middle of the park and didn't really play wide all that much. It was pretty congested in the middle."

Despite probably deserving all three points, a 3-0 score line certainly flattered the visitors with the Hammers going close on multiple occasions.
On another night Neufville felt things could have been different:
"We had a few chances, some at key times in the game, [Jahmal Hector-Ingram's] one off the line, but we couldn't take them and they did – that was the difference."
In his post-match reaction, Academy Director Terry Westley praised Neufville and Nathan Holland for their contribution and for the defender, it was good to re-form a partnership which had started the season so impressively.

"Yeah, it was nice playing on that left side with Nathan again" Neufville explained.
"I think we tried to make things happen. We have a good relationship on and off the pitch, he's a good friend, and I think that is helping both of us when we play. Hopefully it can get better and better."