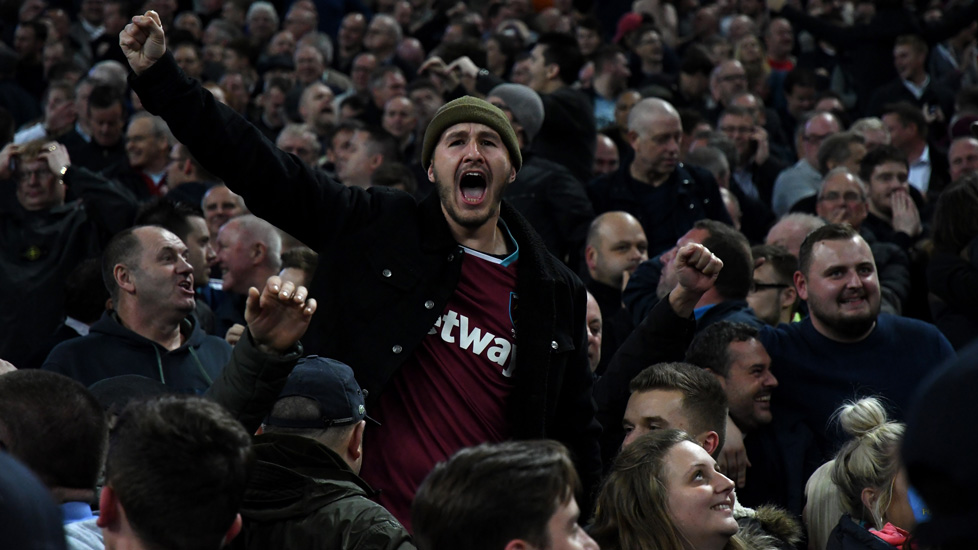 In response to feedback from supporters and discussions at last week's Supporter Advisory Board meeting, West Ham United will be trialling a new method for away ticket sales to allow more Season Ticket Holders and Claret Members the opportunity to follow the Hammers on the road.
The new system will see ten per cent of every away allocation reserved for our 52,000 Season Ticket Holders and Claret Members to purchase on a first come, first served basis, once the first 90 per cent of the allocation have been allocated as standard by Season Ticket Holder Priority Points.
West Ham United hope the new system will enable as many supporters to follow the team away from home, while still offering priority to those loyal fans who currently travel week in, week out. 
Those who narrowly miss out via Season Ticket Holder Priority Points will effectively have another chance to secure a seat, while our Season Ticket Holders and Claret Members – consisting of Hammers supporters both in the UK and abroad - can begin to build Priority Points and attend games they historically would not be able to.
The new sales method will be trialled over five upcoming away matches, beginning with the trip to Stoke City on 16 December, followed by the Carabao Cup quarter-final at Arsenal, the visit to Tottenham Hotspur on 31 December, Huddersfield Town on 13 January and Brighton and Hove Albion on 3 February.
Full ticket allocations will be taken for each of these fixtures to allow as many supporters as possible the opportunity to attend. A further 800 seats have already been requested from Stoke City, taking the total allocation to 3,200.
Furthermore, the Hammers Ticket Office have secured a further 2,040 tickets for the Carabao Cup quarter-final at Emirates Stadium, meaning over 7,000 supporters will be in attendance. Tickets will be available to Season Ticket Holders with 6 or more Priority Points from 4pm on Wednesday 29 November, at a price of £20 for adults or £10 for concessions.
The away fixture at Bournemouth on Boxing Day is not included in the trial. The Club can confirm we have requested our maximum allocation of 1,300 at the Vitality Stadium, but due to the fact that the figure is significantly lower than other matches, we believe it is right to allocate the full amount to our most loyal travelling fans.
The Season Ticket Holders and Claret Members sale period will begin 24 hours after the initial 90 per cent of the allocation has sold out. Once the trial period has taken place, there will be a full review of the system before it is decided whether it will become permanent.