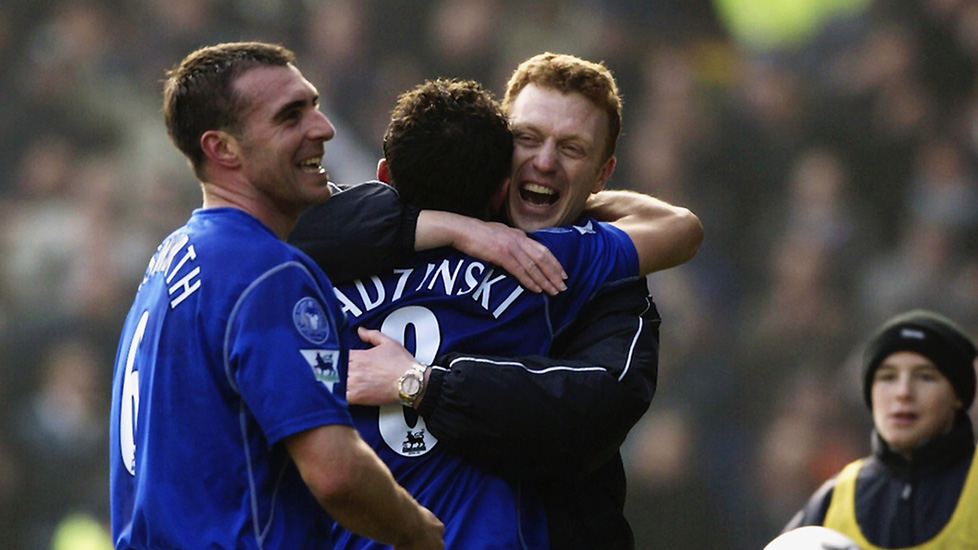 David Moyes has backed his one-time defender David Unsworth to become a successful manager, despite Everton's current struggles.
The Blues have won just once in seven matches since their title-winning U23s manager was promoted to replace Ronald Koeman on a caretaker basis on 23 October, leaving the big-spending Merseysiders looking anxiously over their shoulder at the bottom three.
But Moyes, for whom Unsworth scored the first goal of his Goodison Park reign back in 2003, says the Toffees' temporary man in charge should not be judged solely on Everton's recent run of results.
"I think David Unsworth, given the right opportunity, will be a successful manager," said the Hammers manager, who will face his one-time charge when he makes his latest return to Goodison Park on Wednesday evening.
"If he doesn't take the Everton job, I would be telling Unsy: 'Go and manage somewhere and earn your corn. If you want to move on go and get a job in the Championship or League One, see where it takes you to'."
I think David Unsworth, given the right opportunity, will be a successful manager

David Moyes
Moyes himself 'earned his corn' at Preston North End as a young manager, leading the Lancashire club from the third tier to the brink of the Premier League around the turn of the millennium while still in his late thirties.
Having impressed at Deepdale, Everton moved for the Scot in 2003 and he went on to spend more than a decade in charge, leading the Toffees to the FA Cup final, the UEFA Champions League qualifiers and a succession of top-six Premier League finishes.
Should he not get the Goodison gig full time, the 54-year-old urged Unsworth, who led Everton's U23s to the Premier League 2 title last season and has developed a succession of first-teamers since being appointed four years ago, to follow his own example and serve a managerial apprenticeship in the Football League.
"I think there has been a generation of really good players out there who I believe should go and manage and try and come up [through the divisions]," Moyes confirmed.
"I would say 'Earn your stripes first and show you can organise and you can control the team and show that your training works, all the things that are linked with management and leadership. Why don't you go and do that and then get yourself prepared for the big job?'
"But because the way the game has gone now there are a lot of them who don't want to put themselves out and take a job because, if it doesn't work, then they are done. I still believe the best thing to do is to go out and trust yourself to win a few games, wherever you go.
"But I think one way or another David Unsworth will still be hoping he will still be Everton manager, and why should he not be? He has to do that.
"But if he doesn't get it, for Unsy he has done a very good job with Everton's Under-23s. He won Premier League 2 last year they are up towards the top of the league again this season and you look at the players Everton are bringing through, the Tom Davies of the world and a few more.
"Maybe the next step is for Unsy is to try and get a decent job which would give him a chance of getting into the management level and get a few years under his belt."