Manager David Moyes sat down with the media ahead of his midweek Premier League return to Everton.
However, while the West Ham United manager had warm words for his former club and caretaker manager David Unsworth, he insisted there will be no room for sentiment at Goodison Park on Wednesday evening.
Moyes also talked positively about the way his players have responded to his methods since he took charge three weeks ago, and praised captain Mark Noble for his response to being left out of the starting XI last time out...
We've got to get better and better
The players are most definitely responding to the messages we are giving them, both in training and in matches, but they are very basic messages we are giving them so far.
I thought it was a really good response on Friday night, particularly after we went 1-0 down early on.
The players did a lot of good things, but we've got to do more things better yet, so we've got to keep at it and also try to improve the football as well. But the basics, running around, doing the hard miles, that's a given now.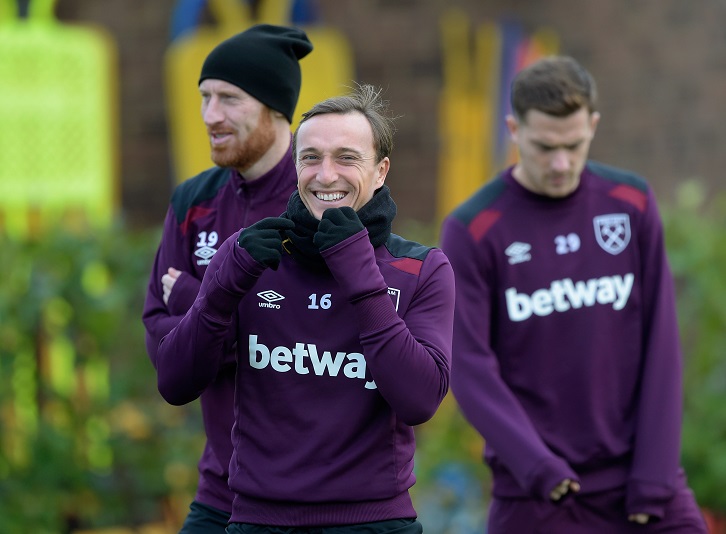 Mark's Noble response
I was asked about leaving the Club captain Mark Noble out of the starting XI to face Leicester City and whether I was 'making a statement' with my team selection, but I can assure you it wasn't anything to do with making a statement.
If anyone rallies West Ham United and the players then it's Mark Noble. I'm no expert on Mark, as I've only been here two weeks or so, but the people who know him speak so highly of him.
I can only say that in the time I've been with him, even today, he's driving everyone on, making sure we do the right things in training and making sure the standards are right.
As you would expect, Mark responded to being selected among the substitutes in the right way, but he also wants to play and be part of the team.
He'll certainly be a part of the squad at Everton on Wednesday. We'll need to wait and see whether he starts or not as we have competition for places, but there is no problem playing him because he's a good player.
We decided to go with a bit more pace in the wide areas, brought Arthur Masuaku in on the left and Manuel Lanzini in the middle of the pitch and that is why we did it, to give ourselves a bit more added speed.
The supporters were fan-tastic
I must say again that I thought the supporters did a brilliant job rallying the team on Friday night. I can understand their disappointment with results this season, but the other night they got right behind their team and gave us every chance of winning.
It's been mentioned by everybody what it was like at London Stadium on Friday evening. I think a lot of people thought maybe they could not generate a similar atmosphere to Upton Park, but they tell me the Chelsea game last year was a terrific atmosphere and I thought the game on Friday was very good considering it was only one-each at the time.
The supporters could see the players trying to fight back and win the game so great credit to them, as they really got behind the players.
No room for sentiment
I spent eleven seasons at Everton as manager but there will be no room for sentiment when I go back to Goodison Park on Wednesday night because I need to win with West Ham.
It's really important we try and pick up three points. We got our first point last week and we need a first clean sheet and a first three points. I'm hoping to get them when I go back to Goodison.
That said, I very much have sympathy with Everton's own predicament because that club was part of my life, part of my family's life, for a great deal of time.
I don't think many managers will do eleven years at a club again, but I've been away a long while now, and I've been back as well, and I'm going back again, and it's a great place – I know the staff, the people behind scenes, a lot of the players and I know David Unsworth very well. He scored 25 seconds into my first game as manager so I'll always remember Unsy for that and he's a good lad as well.
My focus is West Ham now, though. I'll always look out for Everton but, at the moment, I can only focus on making sure it's West Ham who are out of trouble and not at the bottom.