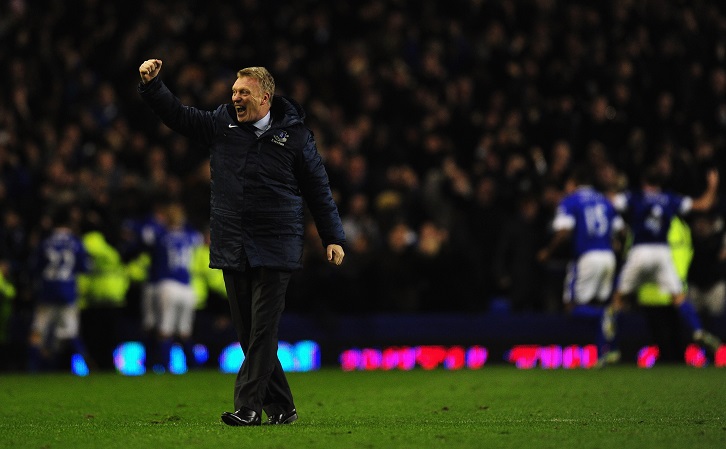 Liverpool-born journalist, author and Everton supporter Simon Hart shines a light on the sparkling work done by David Moyes...
"He's the one who made me push myself to a level I didn't expect to at the age I was." The words are from Sylvain Distin, and they belong to a conversation that took place in a hospitality box at Bournemouth's Vitality Stadium in the summer of 2015. We were speaking for a Saturday interview in the Independent and he was reflecting on the managers he had learned most from in English football.
Sir Bobby Robson got a mention and Harry Redknapp too but it was David Moyes, he told me, whose approach had helped him become the foreign outfield player with most appearances in Premier League history. "When I signed for Everton, I thought I might play the first year and then the second year I'd be on the bench," said the now retired defender. "But he made me feel like I should never give up and always fight, no matter what. I was a bit like that but he reinforced it. In the end, I played six years."
You can find many similar testimonies about the new West Ham United manager from players with whom he worked with during his eleven years at Goodison Park – model professionals like Phil Neville, Tim Howard and Leon Osman. It feels pertinent to raise this now given the debate that accompanied Moyes's appointment as manager at another of the famous names of English football.
The world of football is brimming with opinions. And yet the insights of those who knew Moyes over his eleven years at Everton have surely a greater worth than most.
Putting my cards firmly on the table – as an Everton supporter and huge admirer of Moyes's efforts during his time on Merseyside – I still recall a conversation with Dan Donachie, the club's former head of medicine, whom I called one day for a view on the Scot's knack of drawing consistently strong performances from a tight squad of players. Donachie cited the following example of midfielder Osman playing through illness as representative of the unity of purpose fostered by Moyes. "Leon Osman woke up at two o'clock in the morning and he was vomiting until six o'clock in the morning," he said. "He had one piece of toast to eat, that was all, and he played the whole game and was one of the best players."
It was Moyes who built that team-first ethic, and it came through on the field. Everton had five top-six finishes and reached three cup semi-finals and, in 2009, the FA Cup final. They lost 2-1 to Chelsea but – in mitigation – were missing their best defender, midfielder and forward in the injured Phil Jagielka, Mikel Arteta and Yakubu.
It was Moyes who built that team-first ethic, and it came through on the field

Simon Hart
It is only four and a half years now since he left Liverpool and took his well-documented path to Manchester, then San Sebastian and Sunderland. It feels longer. It was uplifting then to hear Moyes spell out on arrival at West Ham United that he has 'not got any time for any nonsense'.
It sounded like the man who showed Paul Gascoigne and David Ginola the door early on at Everton. This chimes with the view of one well-respected journalist who knows him well who told me he senses a fresh hunger in the 54-year-old.    
Moyes is a man who always had a burning wish to improve footballers. A story that footballer-turned-broadcaster Pat Nevin recounts is of Moyes, a year his senior, lecturing him at half-time during a Celtic Boys Club match for shirking a tackle. "Never show a weakness" was the glaring Moyes's advice to Nevin. They weren't actually in the same team; Moyes had been watching on the sidelines but did not think twice about stepping forward to make his point. Speaking in a book I wrote about Everton in the 1980s, Here We Go, Nevin cites Moyes as a manager in the long line of men inspired by the great Celtic boss, Jock Stein. "If you know Jock, you see David Moyes. The line is obvious for those of us who were inside it."
It is worth recalling all of this as a reminder that here is a manager with a firmer foothold in the game than the wobbling weather vane of football fashion. His experiences post-Old Trafford have included improving Real Sociedad's defence during a steep-learning-curve year in Spain, and working for UEFA on their technical study team at EURO 2016.
At Everton, he is remembered first and foremost as the man who lifted the clouds and set about restoring sagging expectations after the dismal Walter Smith years. He instilled defensive solidity, brought through some talented youngsters, and had a higher success rate in the transfer market than the men who have followed him – bringing in not just good characters but some excellent footballers too. His combined £7.5m outlay on Arteta, Steven Pienaar and Tim Cahill looks even more remarkable today than it did at the time.
Last weekend I had lunch with a player whom Moyes signed from South America who spoke with awe of the work ethic he found in that dressing room and the sense of belonging among a squad of players who, thanks to Moyes's due diligence, were not the types to just pass through.
It is worth recalling too that his Everton team played some fine football. For any sceptics out there, type 'Leon Osman goal v Larissa' into YouTube. That was in October 2007. The next month, Everton demolished Sunderland 7-1. Their midfield included Arteta, Osman and Pienaar – three clever, technical footballers. Tim Cahill buzzed about infectiously. Yakubu shuffled here and there. The football was fluid and incisive. It was, incidentally, in this very week ten years ago.