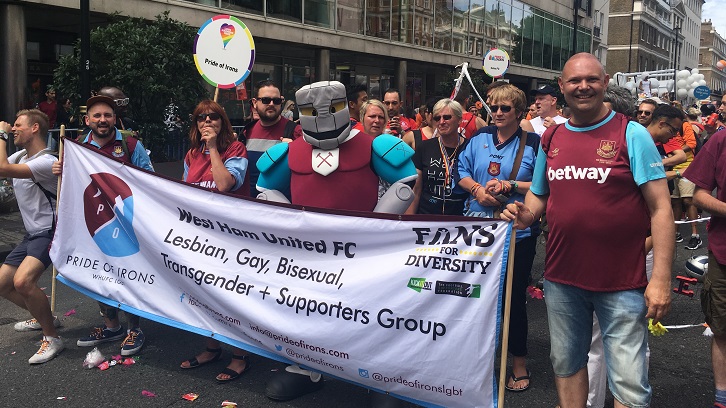 Pride of Irons co-chairman Jim Dolan says West Ham United are working tirelessly to make LGBT supporters feel welcome at London Stadium...
Tonight's match marks the launch of the Stonewall Rainbow Laces campaign.
Initially created by an online betting site, the campaign has been adopted by the LGBT charity Stonewall in partnership with the Premier League.
But what's it all about? What's it for? Simply, it is to highlight awareness of LGBT (Lesbian, Gay, Bisexual and Transgender) fans in football and to highlight problems around homophobia – highlighted this season with the promotion of Brighton & Hove Albion, who have notoriously received historic homophobic abuse.
Added to that, it's 2017 and we still don't have an out footballer in the Premier League. Now we know they're there.
We've had at least two play for us. The first – although briefly – was Justin Fashanu, who later tragically took his own life. More recently, Der Hammer – Thomas Hitzlsperger – who chose to come out only just after retiring from the game.
There have also been several reports of gay players having discussions with footballing authorities around what will happen should they come out.
So why aren't players able to? After all, in this day and age you'd think it wasn't a big deal, right? LGBT people have all the same rights as everyone else, so what's the problem?
Players need to know that they have support in the stands and LGBT fans need that support too.
Although initiatives like Rainbow Laces are good annual gestures, there's more to it than waving a rainbow flag once a year. Acceptance in the stands is not the same as taking part in a single event which some could say is a box-ticking exercise.
Fortunately, West Ham United is a Club that supports all of its fans and isn't just about ticking boxes.
Since the creation of Pride of Irons (West Ham's official LGBT+ fan group) the club has been in full support, from sending Hammerhead to the London Pride Parade to asking us to come in to the club to provide training to SLOs (Supporter Liaison Officers) around LGBT issues.
And for anyone who thinks we're isolating ourselves as a group, that's not the case. Around a quarter of our members are straight and all are invited to join.
We want to create a supportive environment for LGBT fans and their families, which can only be achieved with acceptance and support from every fan in the stands.
One day we won't be talking about Rainbow Laces and Pride of Irons won't exist, because homophobia will be seen by the footballing community to be as abhorrent as racism is by most today.
But until that day, please join us and let your fellow fans know that they are welcome, whatever their sexuality, gender, colour, race or level of ability. Because we are all West Ham together.
*For more information about Pride of Irons, click here.