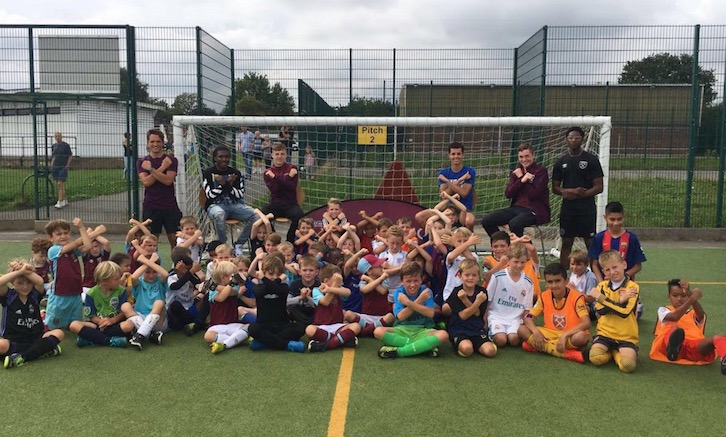 West Ham United Soccer Schools run in East London and across Essex with courses providing a safe, friendly and enjoyable learning environment for youngsters to improve their fundamental skills through the use of challenges and small games.
Our Soccer Schools sit at the foundation of our development pyramid and encourages the players to test and experiment creatively their own abilities, while Academy scouts and coaches are to attend each venue. Recent holiday programmes have seen several youngsters referred to the Club's famed Academy!

Coaches are trained in creating challenges for all within the groups they work with. Challenges will include technical, social and group challenges when learning about game craft.

Our coaching syllabus is built upon the four phases of Football; In possession, Out of Possession and Transition (In > Out & Out > In).

We deliver from 3 years old to 15 years old;

Our Little Hammers are open to children of all abilities aged between 3 and 5. Sessions are tailored to develop player's basic hand-eye co-ordination skills as well as their ABC skills (Agility, Balance and Coordination) in running, jumping, landing throwing and catching. 

Our Player Development programme has been designed for players of all abilities aged 5 to 11 years old. The daily and week-long programmes have been deigned to aid in the player's development in their technique, tactical awareness and roles and responsibilities of all individuals on a football pitch. Each day of this course is focused on the different phases of the game with our qualified coaches delivering a range of mini games, challenges and practices, with a week-long tournament.

Our Players Progression Programme are available for boys and girls aged 12-15 years old. The course will be focused around SAQ activities (Speed, Agility & Quickness), individual technical activities and attacking and defending principles of the game. Different approaches to aid the development and understanding of roles and responsibilities in playing within a system, tactical shapes and quicken decision making on the pitch. 

Our Goalkeeping Programme are available for boys and girls aged 8-15 years old has been designed to improve and goalkeepers handling techniques, save selection process and heavy attention payed to a player's fundamental ABC (Agility, Balance and Co-Ordination). Delivered by qualified coaches aiming to challenge each individual and make all scenarios in training as realistic as possible. 

2017-2018 Venues;
Beckton: WHU Foundation Training Ground, E6 5NX
South Ockendon: Ormiston Park Academy, RM15 4RU
Hornchurch: Emerson Park Academy, RM11 3AD
Basildon: Woodlands School, SS16 5BA
Chelmsford: Great Baddow High School, CM2 9RZ

NEW from February 2018 Half Term
Harlow: Fairways Sports & Social Club, CM19 4RT