David Moyes admits he has plenty of work to do after seeing West Ham United fall to a 2-0 Premier League defeat at Watford in his first game in charge.
The Hammers marked Moyes' first game in the dugout and 500th Premier League match as a manager by conceding goals in each half to Will Hughes and Richarlison at Vicarage Road.
At the other end, Cheikhou Kouyate and Marko Arnautovic – who left the stadium nursing a suspected broken thumb – each missed a pair of gilt-edged chances, leaving everyone in Claret and Blue feeling decidedly frustrated.
Then, having gone 2-0 down midway through the second half, confidence visibly drained from the West Ham players and Watford held on for a comfortable and deserved victory.
We need to try to pull everybody together. We need the crowd and we need the West Ham supporters

David Moyes
"I expected something like that, because that's what it's been before," said Moyes, when asked for his assessment of the game. "I was disappointed that we didn't do better, but we missed a couple of really good chances at 1-0, just before half-time.
"The better team won the game, but there was a chance for us to affect the outcome of the game and we didn't do it. So, we're going to have to improve and hopefully I'll get the chance to work with the players over the coming weeks and it will make a difference."
"I was only ever going to find out what they were like by working with them and then seeing them play during the game.
"I could see that they needed a couple of things to go for them and, in the couple of big moments we had, a couple in the first half and one just after half-time, when they didn't go for them then you could see the confidence draining away.
"We've got to try to turn things around quickly and we've got to find a way of winning, which we will try to do. The important thing was to stay in the game but, when we conceded the second goal, it became a lot more difficult.
"We ran out of steam with 15 or 20 minutes to go after I thought we started the second half playing better than we did at times in the first half. We have things to work on and, hopefully, things to improve on.
"We have to try to win games and get results and pick them up as we go along and I believe we will do, but we need to play much better than we did today, because today's performance wouldn't be good enough."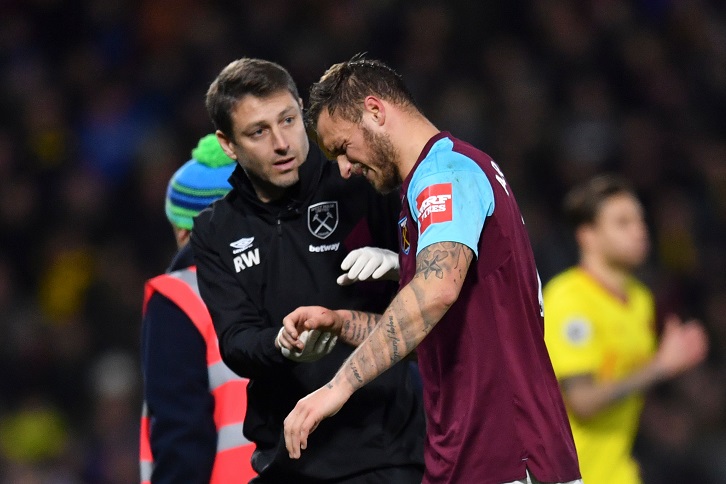 Moyes was rightly disappointed with the manner of Sunday's defeat, but urged West Ham fans not to turn on his team at a time when they need their support more than ever.
"We need to try to pull everybody together. We need the crowd and we need the West Ham supporters. I know from what I saw today why they would be disappointed, because I'd be the first to say it was not good enough.
"I'm really disappointed with the overall performance, but it's a start and we've only been together a week and they're going to have to give me a little bit of time to do something with it.
"Today's performance was not good enough, but that's what I need to assess and we've got a lot of games coming up thick and fast, and we need to perform better than that if we're going to win."
Finally, Moyes confirmed that Arnautovic had been taken to hospital following Sunday's game for his thumb injury, suffered as he fell awkwardly while making a second-half challenge, to be fully assessed.
"The first thought was a broken arm, but it looks like he's broken his thumb and we've sent him to the hospital to get X-rayed and we'll know more after he's had it scanned."