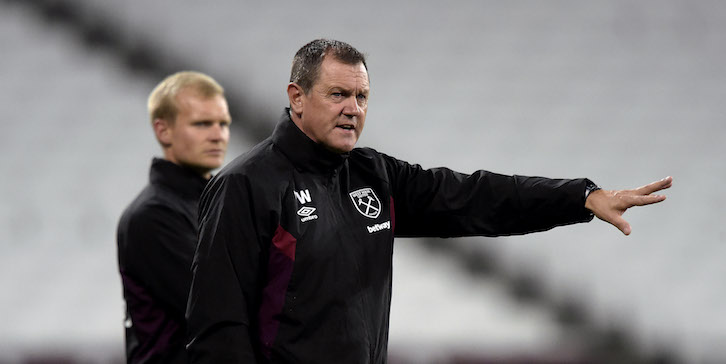 Terry Westley admitted that there were very few positives to take from West Ham United U23s 5-1 defeat to Derby County on Friday evening.

The Hammers, who went in to the game on a six-game unbeaten run, conceded inside the opening forty seconds and sadly it set the tone for the remainder of the match.
It was West Ham's first PL2 match at London Stadium since they beat Manchester United 4-2 in October, but in front of new First Team manager David Moyes, who watched on from the stands, the youngsters failed to take their opportunity.
Derby led 3-0 at half-time thanks to two gaols from Offrande Zanzala and one from Luke Thomas. The visitors then scored two in the opening five minutes of the second period to put the game out of sight.

Grady Diangana did get one back, in particularly impressive fashion, on 69th minute but by then the game was gone.

Academy Director Terry Westley was clearly disappointed at full-time but was quick to reassure his squad that nights like this are just as important in the development process.
"So much in life you're looking forward to certain things and tonight you're thinking 'main stadium, a team that we can compete against and new manager watching in the stands' so what an opportunity for these players" he said.
"The young players have impressed the new manager with the way they've gone about their business on the training ground at Rush Green, but tonight with all of that, we failed on virtually every point – there isn't really a plus I could give you.
"We must not jump overboard about one result, yes we've been beaten well on the counter-attack and their forwards were too strong for our defenders and that really summed the game up.
"But if you look at October, the players have done really well so you can't all of a sudden just say how poor they were – development doesn't work like that. We won't get over the top about good result and likewise, we don't beat ourselves up about bad results.
"We knew before the game that defensively it was going to be tough for us because so many of our players were missing – we had a lot of square pegs in round holes, players out of position so we knew that whole defensive unit was a bit of a gamble. In midfield and in attack, we created chances but we were always going to let in goals."