West Ham United fans grabbed the chance to meet Pablo Zabaleta, Angelo Ogbonna and Toni Martinez on Tuesday at a signing event to mark the opening of the Club's new Store in Basildon.
Hundreds of supporters flocked to the new Store at Basildon's Eastgate Shopping Centre to meet the Hammers trio, pose for photographs with the players and receive autographs.
Zabaleta has met West Ham fans before at a signing event at the Stadium Store in Stratford and the defender was once again delighted to have the opportunity in Basildon.
"It's brilliant," Zabaleta told whufc.com: "We really appreciate the fans waiting to come and see us and it's good to spend some time with them. We're enjoying ourselves and we're glad to see the supporters are as well."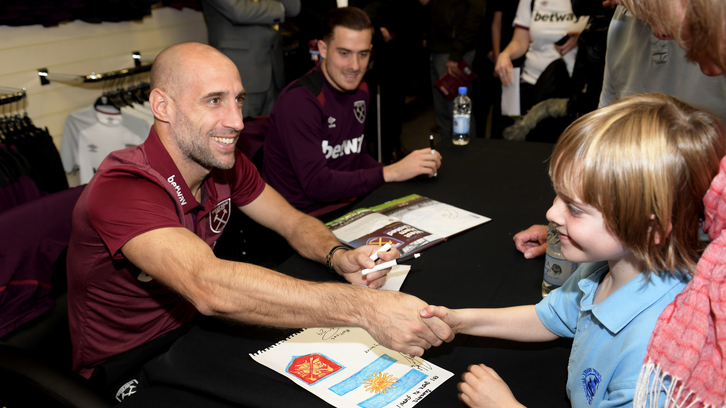 The Argentinian's sentiments were echoed by teammates Ogbonna and Martinez, who were also thrilled to give fans a memorable experience at the Basildon store.
Ogbonna continued: "It's really good to be here seeing all these fans. I'm really proud to represent the Club here in Basildon."
"It's always great to meet the fans," Martinez added: "We're are lucky to have such a loyal fan base who want to come and see us, and I am really enjoying it."
The Mayor of Basildon, David Harrison, was also in attendance at the Store signing and was on hand to welcome Zabaleta, Ogbonna and Martinez to the borough.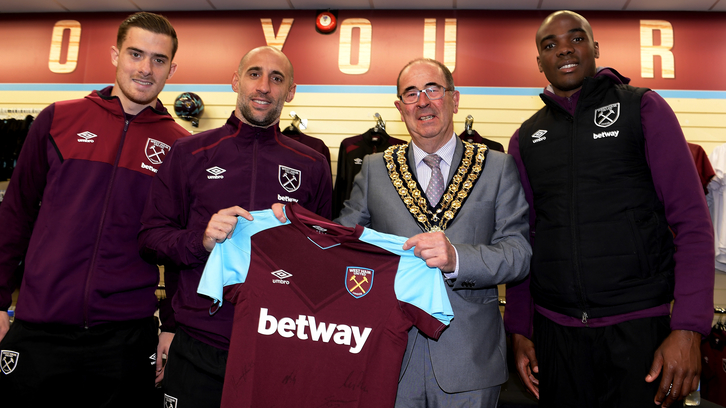 "I think this store means a lot for Basildon and a lot for the borough," Mayor Harrison beamed. "There's so many West Ham fans in this area. I'm looking at the crowds here and I can tell this is going to be wonderful.
"I say welcome to West Ham United. Seeing the players making all the kids happy is absolutely brilliant. I've been chatting to the players. They're so pleased to be here and I think that's important to see. It's what West Ham in the community is about."
For 15-year-old Lewis, a lifelong West Ham fan, the chance to meet three of his heroes was too good to pass up.
"I only live five minutes away but I couldn't miss this," Lewis said. "It has been amazing. I got my shirt signed, I got pictures. It's been brilliant to see them and have a store here in Basildon."