The West Ham United U12 Players, Academy Staff and members of the local community paid their respects to the fallen heroes of World War I at West Ham Cemetery this week.
The Academy youngsters have been learning about the Battle of Passchendaele as part of a project called 'Passchendaele at Home Challenge' which is being run by the Big Ideas Company.
The players organised a Memorial Service which was led by Academy Reverend Philip Wright. Members of the U12 squad undertook different roles within the Service.
This reading the poem 'In Flanders Fields' by John McCrae, before Josh Widdop, a Year 11 student from Robert Clack, performed the Last Post.
The players marked their respect by laying down the wreathes on the graves of Walter Ellis, from Stratford, and Robert Pilgrim Evans, from Coggeshall in Essex, who died in battle over 100 years ago.
Oliver Lethbridge is the Academy's Head of Education and led the U12s' project on the Battle of Passchendaele in the lead up to Remembrance Day.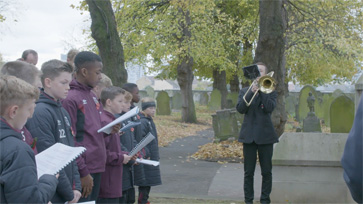 He said: "The boys went into the classroom for some sessions to learn about the Battle of Passchendaele and undertook lots of different tasks, including an activity in which they pretended to be a soldier at the Battle and wrote a letter home to their loved ones which helped them to learn about the conditions."
"They also wrote an article for the match day programme which appeared for the Liverpool game and have been learning about the Battle as part of a project they have been running to build awareness about the Servicemen that lost their lives."
"It's really important that our young players are not only engaged with education and football, but at this time of year, learn about what our Servicemen did for this country. It's been a great project to work on."
"The link of this project to their football is that they will be competing in the Truce Cup Qualifiers on Remembrance Sunday."
"They are trying to gain a place at The Christmas Truce Cup which is hosted by the Premier League and is held in Ypres, Belgium."
Thanks goes to the U12 players who took part in the filming of this project.