Aaron Cresswell has admitted the West Ham United players weren't good enough during the 4-1 loss to Liverpool, and promised fans the team would work to resolve their issues during the international break.
Goals from Mohamed Salah, Joel Matip and Alex Oxlade-Chamberlain gave Liverpool the win against the Hammers at London Stadium, who scored to make it 2-1 through Manuel Lanzini in the second period.
Cresswell believes he and his teammates failed to give an accurate representation of their ability in the match and insists only they can fix the problems that the team showed against the Reds.
"We are gutted," Cresswell said. "It's hard to take. We know it's not good enough and it's only us that can get us out of it.
"We're going to have to work hard now. We've got a two-week break, and we've got to put it right on the training ground and turn it around quickly."
It's hard to take. We know it's not good enough and it's only us that can get us out of it.

Aaron Cresswell
Liverpool's opening goal came just over twenty minutes into the match, after the away side countered from a West Ham corner.
Cresswell believes that, up until that point, the Hammers had been performing decently but let themselves down when it came to defending against Liverpool's quick counter.
With the second goal coming not too long after, the 27-year-old concedes it was always going to be tricky to win the game from 2-0 down.
He added: "I thought we started quite well. We had a corner and then they break, and before I know it
I've got both Mane and Salah. It's a sloppy goal to give away and of course the second one was a set-piece.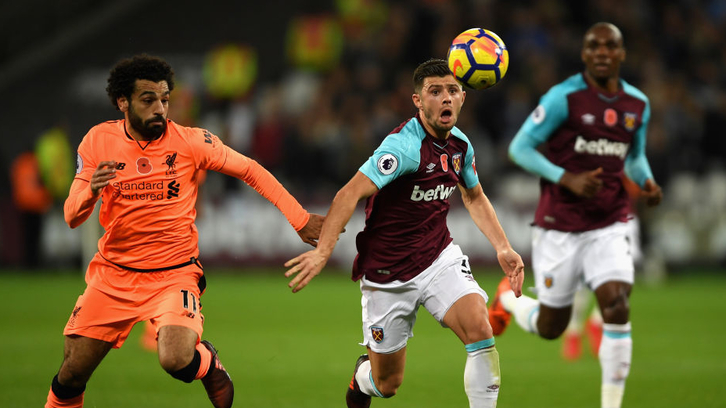 "They've got some fantastic players, especially on the break. We knew that was going to happen. It's hard to come back."
The defender believes he and his teammates recognise they weren't good enough against Liverpool and, despite the quality the side possess on paper, the team needs to improve and show how good they truly are.
Cresswell said: "These times are difficult. Every player knows we've not been good enough, individually and as a team. We're at the bottom end of the table and it's not easy.
"All we can do is get back to the training ground and put things right. It doesn't matter what you've got on paper. It's about form and it's about results."