West Ham United manager Slaven Bilic will enjoy a well-earned break from the incessant pressure of being a Premier League manager over the next few weeks.
After ten months of near non-stop action, the Hammers' season ended with victory at Burnley and an eleventh-place finish on Sunday.
Bilic will now undergo surgery on a long-standing hip problem before heading back to his native Croatia to spend time with his family - but his mobile phone will remain switched on (almost) all the time as the Club looks to bring in quality signings this summer.
In the first of a three-part West Ham TV Iron Works interview, the boss identified the attributes he is looking for in potential new recruits, his own summer plans and why a new playmaker will help Manuel Lanzini to flourish...
What will you do this summer to recharge your batteries?
"I need it like everybody else. You need to rest so I'm going to rest with family and friends back home [in Croatia] after my operation, which I'm going to do in London. The week after I can fly back home and I'm going to be at home, basically on crutches.
"I'm looking forward to it because it's going to be like a proper rest."
People wouldn't realise how little you see your family during the season compared to people with 'ordinary' jobs…
"If you live in London, what is an 'ordinary' job these days? The hours that the average workers are working, unfortunately they don't see their kids a lot as well.
"OK, it's more because you are away at the weekends but it's that kind of a job, so I'm looking forward to spending some time with the family."
But the direct line to the Chairman will always be open!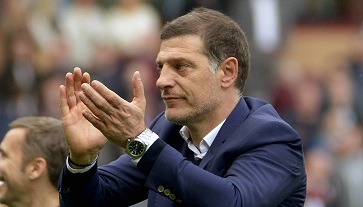 "Of course! We're not starting now, we've been talking for the whole season, monitoring and now it's about time to do it, not necessarily in a couple of weeks but until the finish, until the end of the transfer window.
"We know what positions we want to improve the team. We have a list of the players but it's not very easy to get them, you know. It looks very positive so far."
It's not fair to ask you about positions or names, but it's fair to ask what type of player you would like to add to your squad – their qualities and attributes?
"We need quality players. Of course you always need quality players but sometimes you are buying players for the future, sometimes you are buying players for the squad to be back-ups and all that, but we are good in that department.
"OK, we can talk about, if some of the players go, we can refresh the team with new players, but mainly we need the players who are going to improve the quality and be the game-changers.
"There are no guarantees in football, but we need starting XI players in certain positions.
"We want it all, but those players are very hard to get and they cost a bit. They are pretty much the privilege of the big, big, big guns. We have to close our eyes on some things. We can't expect them to tick all the boxes with a mark ten.
"But athleticism is very important in today's football, especially in the Premier League if you are talking about physicality and all that. It's got to be fit players with stamina, with pace definitely and the of course good enough in all other departments.
"It depends, because we are looking in a few positions. In some positions, we are looking for physicality and they may lack a bit of first touch and delivery, but if you are talking about midfield area, if we want something in midfield, and I'm not saying we do because we are good there, then we would like to add a bit more quality.
"We have legs and physicality but we would like to add a little bit more quality to [Manuel] Lanzini, like what we had last year with Manu and [Dimitri] Payet, which was a great combination, not just for the two of them but for the whole team. It was great for [Aaron] Cresswell, for Mark Noble, for [Cheikhou] Kouyate, for the strikers, for Michail Antonio, so the whole team was benefiting from that link between the two of them."