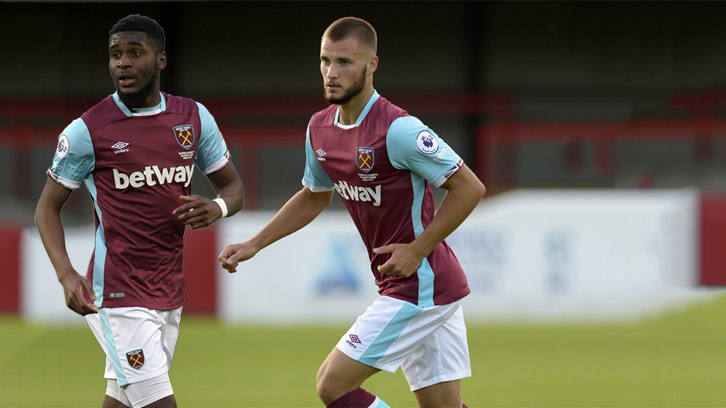 Moses Makasi and Noha Sylvestre have signed new one-year contracts with West Ham
The midfielders have been key men for the U23s this season as they won Premier League 2 promotion
Both are keen to impress the manager this pre-season
Midfield pair Moses Makasi and Noha Sylvestre have signed new one-year-deals with West Ham United.
The duo, who have both regularly featured for the Academy of Football's U23s this season, have put pen to paper on contracts which will see them remain in east London until 2018.
Makasi, who played 29 times for Terry Westley's team this campaign, also featured on the bench twice for the first team at the end of the 2016/17 season, including at Turf Moor against Burnley on Sunday.
Swiss 19-year-old Sylvestre was also heavily involved in the Hammers' Premier League 2 campaign, making 25 appearances in all competitions and helping the outfit win promotion to Division 1 via the Play-Offs.
Makasi – now 21 – has been with West Ham since he was nine-years-old, and was naturally delighted to extend his stay at London Stadium.
He said: "It's a good feeling. I've obviously had a good season personally, going on pre-season tour with the first team [to Seattle last summer] and I had a couple of games on the bench, so all-in-all, it's been a good season.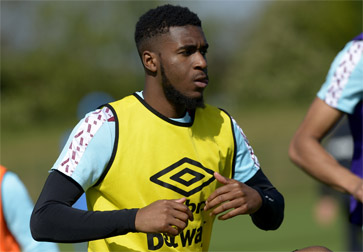 "I played nearly all the games for the U23s to win the Play-Offs with them, so that was great.
"For the first team, there have been a few of us on the bench this season and it shows that hard work counts. If you have a good season, then the manager is always watching.
"Next season, hopefully I'll get the chance to come on and make an appearance. It's been really good seeing how the Premier League works and how the manager does he pre-match meetings, how everything is done before the game."
Ahead of next campaign, Makasi has no doubts about what he hopes to achieve.
"I think it is my time to go out on loan now," he continued. "I've obviously done the whole U23s season, had a good season, and it would be good to get out on loan, have a good July to December of playing first team football.
"Hopefully I'll have smashed it ready to come back and be in the manager's eye line here.
"I've been here a long time, nearly 12 years. This is where I want to succeed and make a living at West Ham by breaking into the first team."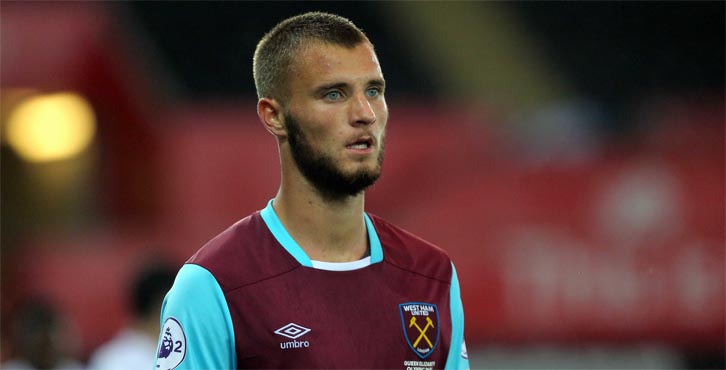 Sylvestre, son of former Switzerland international Patrick, has impressed this campaign with his versatility, featuring at full-back though primarily being a central midfielder.
"I'm obviously delighted to sign," he said. "I have always wanted to stay at West Ham, and I've been here for four years now.
"I'm happy about everything here – the football, the life outside of football, because that's very important.
"I am really excited about the future and what's coming up. There's a lot of work to do now and it's not finished at all.
"It couldn't have been anymore perfect, this season. It was amazing to get promotion and the season overall, if I look back, has been very positive for me. I had plenty of opportunities to play and show what was about and I took them.
"I can always do better, but my mind is really clear for next season, my objectives, and I just have to put that into practice."
Having seen teammates such as Declan Rice go on to make his first team debut this season, Sylvestre believes there is a clear pathway at the Club for those in the Academy.
"You can see how quickly football moves sometimes, and one day you're in the U18s and the next you can be in the Premier League on the bench. I'm so happy for Declan Rice for making his debut, he really deserved it.
"I want to be at the very top too, and being on the bench for the first team next season is one of my objectives. I'm not looking too far ahead though; I want to have the best pre-season I've ever had.
"That's the first aim. If there's an opportunity later to go out on loan, I will because I need to experience adults football and a bit more physicality. "