Declan Rice capped a memorable 2016/17 season by making his Premier League debut for West Ham United in Sunday's 2-1 win at Burnley.
The Hammers U23 captain was rewarded for a hugely promising campaign when Slaven Bilic sent him on for the closing stages of the Hammers' final-day victory at Turf Moor – becoming the 923rd player to pull on a West Ham shirt in the process.
Having also captained the U23s to promotion to Premier League 2 Division 1, the Republic of Ireland U19 international has also received a call to train with Martin O'Neil's senior squad ahead of their summer fixtures with Mexico, Uruguay and Austria.
"It's a dream come true," the 18-year-old told West Ham TV. "Ever since I started kicking a ball, it has always been my ambition [to play in the Premier League], so my dream has come true and I'm delighted.
"You've always got to be ready when you're on the bench as you never know when you're going to get the call. It could have been Dom [Quina] or Mo [Makasi] but luckily enough I was the one who got the call and got on the pitch and did alright!"
While he has long been rated by Academy staff, Rice has developed quickly this season, having first caught the eye during West Ham's tour to the United States in summer 2016.
Despite his quick development, the defender has vowed to remain calm and composed and continue to work hard towards his ultimate goal of becoming a first-team regular.
"To be fair, my feet are always on the ground," he confirmed. "I know today is only a tiny step in my career, so I've just got to keep focused and keep on a good path with the coaches around me and I'm sure I'll go far.
"Every day you've got give 100 per cent in training and in matches. You've always got to improve and have people talking about you and keep working hard and that's what I'll continue to do."
Ever since I started kicking a ball, it has always been my ambition [to play in the Premier League], so my dream has come true and I'm delighted

Declan Rice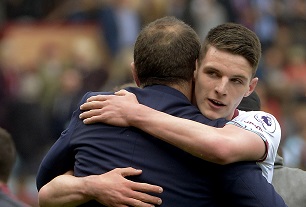 As is always the case when one of their own make a first-team debut, Rice's appearance is also a feather in the cap for everyone working at the Academy of Football.
The teenager's family were also at Turf Moor on Sunday and were quick to congratulate him after the game.
"My phone hasn't stopped ringing!" he smiled. "I just turned it on and have had so many messages already. The Academy are going to be so happy for me, and the same goes for my family as well.
"My family have been to every game I've been involved in on the bench and wouldn't miss it for the world, so I'm so happy they have come up. Now it's my time to pay them back, so I'm delighted."
Next up for Rice is a three-day training camp in Cork, where he hopes to make an impression again training alongside the likes of West Ham teammate Darren Randolph.
"Terry Westley called me and I was sat at home and just couldn't believe it when he said Martin O'Neil had called him up to say he wants me to go to the training camp. My heart was pounding and I was thinking 'Is this true?'.
"Now I'm focused on that and joining up on Tuesday. I've just got to work hard in training and try to impress Martin O'Neil and Roy Keane."