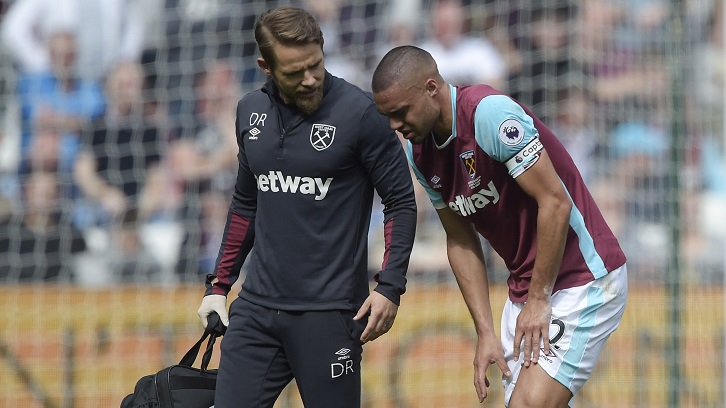 Hello everybody.
While the Premier League season may be drawing to a close this weekend, the Medical and Sports Science department will not be going on holiday, as we have a number of senior players who have undergone surgery recently and are now beginning or about to begin their rehab.
Mark Noble had a significant surgery to rectify an abdominal issue on Saturday and, after spending a period in Spire Roding Hospital, he remains in a lot of pain but is now having a period of rest at home.
As always, Mark will pull through. He will start his rehab with a low-key programme and then go on holiday before he comes back early to continue his rehab to prepare to start pre-season with the rest of the squad in early July.
The injury was of a nature that we have not seen before, but this is something we have become used to with Nobes throughout his career!
Winston Reid also had a successful surgery this week to rectify a problem I have also never seen before in my career – a chronic problem that he has been playing with in the background for some time.
It was possible for Winston to continue playing but, at some point, the risk assessment made us decide to go ahead and operate on him.
Winston will work with us for the next two weeks. He will then have some time off, during which he will follow a personal programme, after which he will return and prepare for the pre-season.
Cheikhou Kouyate had surgery on a chronic problem with his wrist which means we had to reconstruct a ligament in his wrist.
He played with this problem for a long time which again raised a risk of him suffering a secondary injury if he fell awkwardly.
The operation was successful, like Winston and Mark's, and Cheikhou will now spend eight weeks in a cast. He will also come back early to prepare himself for pre-season.
Unfortunately, this means Winston will be unable to play in the FIFA Confederations Cup, while Cheikhou will not be available to captain Senegal in Africa Cup of Nations qualifiers.
We have positive news regarding Michail Antonio, who is already out of the brace he was wearing after the surgery.
He is progressing very well with our head physiotherapist Dom Rogan, who is an excellent rehab physio, so he could not be in better hands.
He will go on holiday with a physio and he is also getting married, but Michail will be in at Rush Green working on his rehab over the summer.
Angelo Ogbonna returned to the squad on Sunday after recovering from his knee surgery. Angelo played with this issue with his knee for seven years, until it reached a point of no return, but the surgery and rehab were very successful and he is available for selection at Burnley. Because of the time he was out, he will also come back early for pre-season.
Pedro Obiang is a top professional and is working with our top physio Frazer Young on his rehab on his knee and he is on schedule to return for the start of pre-season.
Finally, Diafra Sakho has suffered a setback with his back. Because of the complexity of the problem, we saw the specialist in France and decided to give him a period of rest, so he will return early in June to prepare for next season.
Stijn Vandenbroucke
Head of Medical and Sports Science