Spanish striker Toni Martinez scored his 13th and 14th West Ham United U23 goals in his 14th appearance on Tuesday
The double helped the young Hammers to promotion to Premier League 2 Division 1
The forward was naturally delighted and can't wait for preparations for next season to begin
After scoring the double which saw West Ham United U23s promoted to Premier League 2 Division 1 at St. James' Park on Tuesday, young Spanish striker Toni Martinez is already looking ahead to next term.
The forward scored his 13th and 14th West Ham goals of an outstanding debut campaign in English football to earn the Hammers a 2-1 win against Newcastle United, fresh off the back of a successful loan spell in League One with Oxford United.
The 19-year-old, who returned from his loan just this month, scored five times for the Us as well, including one against the Magpies in an FA Cup tie back in January.
Having fired Terry Westley's young PL2 team to promotion on Tuesday, Martinez – signed from Valencia's youth ranks last summer – was delighted to be back scoring in Claret and Blue.
He said: "I'm very happy to help the team and help them achieve this tonight and now I'm looking forward to next season.
"We're so happy to get promoted. I just tried to do my work – scoring goals – and I'm just very happy to have made this possible. I'm very happy tonight because I've scored twice and we've won, so it's been a good day for me.
"In the box, yes I'm always confident and feel like I can score goals. I'm just looking forward to next season now and I'm going to work very hard to get my opportunity – there's nothing more you can do.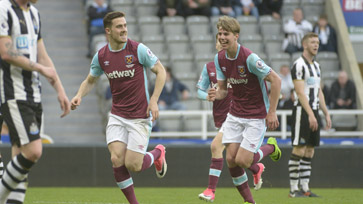 "The game today showed we don't give up. It was an important game for us and we started badly by going behind but we just kept relaxing, keeping the ball, and we knew it would come."
Martinez is not available for selection for Slaven Bilic's first team in their final Premier League clash against Burnley on Sunday due to the rules surrounding loans to the Football League over the course of a season.
But the hot prospect is already targeting a spot in the Croatian's team in the near future.
"I know how difficult it is to play for the first team and to break into the squad but I'm going to do my best to try and do this," he continued.
"I have been on loan and I enjoyed my time in Oxford very much. But of course tonight I'm happy to be back with this group and I'm very happy to return for this important game at the end of the season.
"I learnt a lot at Oxford. I learnt the game of playing direct football, physical football. I got lots of experience of dealing with this and long balls and it's a different game. I think this is important for strikers to have experience playing like this.
"It's a great end to the season for me, and now I'm going to rest and be ready for pre-season."